Important Conversations To Have Early On When Dating.
(ThySistas.com) "So, what do you do?". "I'm a Pisces. What's your star sign?". "Do you want to share a slice of chocolate fudge cake?"
All of these are very valid questions to ask your partner when you're in the early stages of dating! But what about the more serious topics?
Knowing the other person's intentions, sexual health and allergies might seem rather extreme. However, these things are important. As for them, if they're grown up enough to be dating, they should be grown up enough to have mature, adult co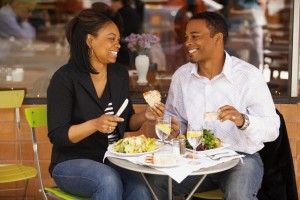 nversations.
You can cover the following three questions casually and then put your mind at rest to ask, "Do you want that last bit of cake?"
"What are you looking for?"
It is important to know you're both on the same page, or that if you're not, you're okay with that. Are you looking for a long term relationship? A one-night stand? A bit of fun that might lead to something more? In return, which of those are they looking for? This conversation doesn't have to be had with too much sternness. But it is important to cover it in whatever capacity you feel most comfortable. Similarly, if there is something you are really not looking for, let the other person know. There is no point investing time in something if it can't go anywhere. If they're looking for a one night stand and you're looking for a ring, it's not going to end well for either of you. Don't be afraid to let them go. Just because they didn't have what you were hoping for or looking for, doesn't mean the next guy or girl won't.
"Have you been tested for STD's?"
This question doesn't need to be asked before sex is on the table. However, once it is on the table, it should be a priority. Maybe you don't 100% trust what they say about their sexual history. Or perhaps they just haven't been tested in a while, or ever! Safer STD Testing allows you both to get tested in a way that is quick and affordable. It is even partially covered by some types of insurance. If you are a guy and a girl having sex, remember that protection isn't just necessary for STD's, but also to avoid unwanted pregnancies. Back on the topic of STD's, never forget that they can be transmitted through oral sex as well.
"Do you have any allergies I need to know about?"
This brief question could save a life. No, really! If you cook a curry for a guy that contains peanuts and don't know he has an allergy, you could give him a serious reaction. Or if you give a girl a foot massage with some strawberry lotion, and she is allergic to strawberries- nightmare! Quickly but clearly ask if they have any allergies or intolerances. It can easy be mentioned casually by mentioning any you have, or a funny story about one. Penicillin allergies are also important to know about, as the reaction can range from mild rashes to the far more severe.
Staff Writer; Mary Johnson