Writing the Blues or Lady Writes the Blues.
(ThySistas.com) The list of over 360 artists who have recorded a Rose Marie McCoy song includes some of the biggest names in the business: Nat "King" Cole, Sarah Vaughan, Elvis Presley, Aretha Franklin, James Brown, Ike & Tina Turner, Shirley Caesar and many other legendary artists.
I don't know of any other songwriter with the kind of track record Rose Marie McCoy has," said Al Bell, former owner of Stax Records and past president of Motown Records Group. "Her songs have been recorded by so many legendary artists in such a diversity of styles: blues, jazz, rock, rhythm & blues, country, pop, gospel. It's mind boggling what she has done.
And yet Rose Marie McCoy has not yet been inducted into the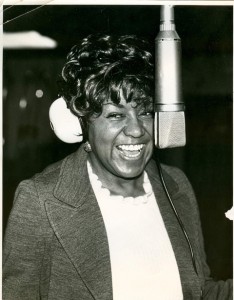 Songwriters Hall of Fame. In fact, only two black female songwriters have been so honored, Sylvia Moy and Valerie Simpson, but they worked for Motown, and McCoy operated as an independent songwriter. Without such backing she may never be inducted. But an even greater reason Rose Marie McCoy has not received the recognition her tremendous legacy deserves is the segregated music business she entered in the early 1950s.
When McCoy first broke into the white male-dominated music business, it was as a writer of hit tunes for black artists – artists like Ruth Brown, Nappy Brown, Big Maybelle, Big Joe Turner, and Faye Adams, all who were classified as Rhythm & Blues artists. Rhythm & Blues was a marketing term the music industry created in 1949 to indicate that the record was by black artists and would be marketed to the black community. These records were rarely played on major radio stations or sold in most record stores. Only the top ten hits she wrote for pop artists, like Nat King Cole and Elvis Presley, would make it to the mainstream.
Several efforts have been made to correct the oversight of the past. The Arkansas Black Hall of Fame inducted her in 2008, Radio Diaries produced a documentary about her life and music, and several Harlem based organizations have honored her. Currently, the Smithsonian's Museum of African American History and Culture is planning a Rose Marie McCoy collection and the songwriter's biography, Thought We Were Writing the Blues: But They Called It Rock 'n' Roll, is available thought Barnes & Nobel.
Sadly, Rose Marie McCoy is not here to enjoy the latest underway to honor her tremendous legacy. She passed on January 2015. But her music lives on, and hopefully so will her inspiring story. It's the story of how a poor farmer's daughter from Arkansas, blessed with talent, determination, and the propensity to take risks, became a successful songwriter, as well as a record producer and a music publisher, and how she led the way for the next generation of female songwriters.
Staff Writer; Latasha Moore