Excuse Me if I Don't Eat.
(ThySistas.com) Thanksgiving and Christmas is supposed to be about good food. This is some of the best food we partake of all year. So much care and tradition go into each recipe, and it literally makes the soul happy. Granted we acknowledge that as of late it seems people want to experiment holiday food on the worst way. Luckily, many not us don't have to encounter the unacceptable holiday experiments. This is the season by which we know that there will be those family members that show up just to eat, and collect an abundance of plated. Our people will eat holiday food for several days because it's just that good to the soul, and it keeps us from having to cook. So, how dare someone decide they don't want to eat…especially of they aren't making a plate to go.
Something family has to keep in mind is everyone can't eat during the holidays. This probably wasn't the case when everyone was younger, but time brings about a change. As we get older there are some things we can't eat because of religious choices, illness, or life changes whereby the focus is consistency. There has to be room within the culture for difference and growth. There are spaces whereby family can be shamed for not eating regardless of the reason. The problem is food should never become a selfish space whereby others are made to feel less than. This means please stop trying to forcing family members to eat things they have made know they don't consume. This pushy behavior can become toxic, it makes those family members uncomfortable, and it's just wrong.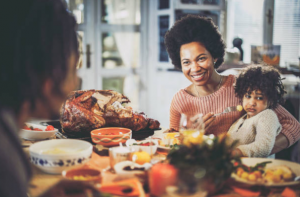 Stop telling your family members they can partake of holiday foods once or twice a year, or one small helping won't hurt you. Medical conditions such a Celiac's disease can be trigger with one bit of food that has gluten. This can send your love one to the hospital. That piece of pie can send your diabetic elder to the emergency room…when they say they don't need it, don't push it. Everyone can't handle the degree of dairy in that Mac and cheese so don't make them feel guilty because you won't have to deal with the pain their body will be in. There are members of your family that can't handle the sodium due to their blood pressure and other conditions, be mindful of them. Of you aren't going to cook a meal that accommodates the guests you know are coming that's okay, but don't be offended when they choose not to eat what's been cooked.
If you have members of your family with dietary restrictions based on their religious beliefs please respect that. We shouldn't be making those family members the butt of jokes because they worship differently. It's far time that disrespectful behavior stop. We wouldn't want anyone passing judgment on something we don't do because of our faith. Stop trying to force pork or shellfish, and food made with pork and shellfish, on your family members that don't partake of such.
If the holidays are supposed to be about good food and family please keep that in mind. It's important to accommodate family when we are cooking for more than ourselves, or don't condemn or shame a soul that doesn't eat. No one should be threatened with a trip to emergency because you want everyone to eat what you cooked. That selfish, and your ego is on full display. Let's be mindful of one another and support each other on health, and faith this holiday season.
Staff Writer; Chelle' St James
May also connect with this sister via Twitter; ChelleStJames.