Business Ideas You Can Take on The Road.
(ThySistas.com) Hey, are you thinking about starting your own business?
While you could work from home or set up shop within any vacant business premises near you, you might also consider a business idea that can be taken on the road. Also known as a 'mobile business,' this is a popular choice for many, especially amongst those people who don't want to be stuck indoors all day. With the relative freedom of the open road, you can take your business to the people.
Of course, there will be an expense. You will need a vehicle large enough for your business idea, so your usual car might not cut it. You might need supplies too, and while you will be spending a lot of time on the road, you might still need a website to advertise your business, and an accountant to manage your taxes, so, as with any business, there will be overheads. Still, there are financing options available to you, so you don't have to use your life savings to kick your mobile business into gear. Check out the linked article for some helpful info.
Here then, are a few mobile business ideas to fuel your imagination.
#1: Set up a food truck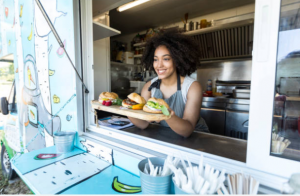 People have to eat, right? Sure they do, and this includes those people who are traveling on today's roads. You could park your food truck at a layby near roads that attract the most traffic, and then feed any hungry drivers who are keen to rest and eat. You might also set up a food truck at special events in your town, such as festivals, fairs, and other community gatherings. You might even set up your food truck in the middle of town!
To be successful, you will need to have the ability to cook (of course). You might also find your own niche to stand out from your business rivals, perhaps offering vegetarian food, or opting for ethnic dishes instead of the usual burgers and hot dogs. Check out this advice on how to start a food truck if you are hungry for this idea.
#2: Drive a party bus 
Are you upset that you never get invited to parties? Don't despair, you might be able to bag yourself an invite if you start a party bus service!  This might include transport for bachelor and bachelorette partygoers, high schoolers going to and from prom, wedding reception guests, birthday party revelers, and more. A Freightliner Sprinter can be adapted to hold around a dozen people, or you might purchase a minibus or even a bus to accommodate even more people. Of course, you will need to have the skills to drive such vehicles, so you will need to pay for training and licensing. Still, once all that is done, you will be able to start your business, although be sure to carry cleaning equipment around with you, as with party goers in your transport, you are almost guaranteed a mess of one sort or another!
#3: Offer a specific service
In such an instance your vehicle will be used to transport the goods you need for the service you provide. As examples, you might run a cleaning service for home and business owners. You might offer your services as a gardener or tree surgeon. You could provide luxury services, such as running a mobile hair and beauty salon, and while you could care for your customers in their homes, you might even convert your van into a salon itself. And going back to our food truck idea, rather than going down this route, you might run a catering business instead, setting up your van to transport staff and food to wedding, home, and business events. There are all kinds of services you could offer, with more ideas here if you need any inspiration. 
And so…
Why sit in a stuffy home office all day when you could be out on the open road with your business! We have only touched on a few ideas but commit to further research to find out more about these and other suggestions.
Take care, and thanks for reading!
Staff Writer; Natasha Short