7 Small Store Ideas That Every Area Needs.
(ThySistas.com) If you want to start a business but find that you are having a hard time narrowing the potential's list down to a single, but yet successful business idea for your local area, don't worry as here are some of the most promising and potential business ideas for start-ups in local small towns villages or even more miniature cities.
While business start-ups can be difficult, this is aimed to give you an idea of 'evergreen' businesses that can quickly take off with not a lot of legwork; well, depends on your aspirations!
Coffee Shop And Evening Bar
When you think of your local neighbourhood coffee shop and bar, you might not think of the same establishments. But if your town is small enough, merging these two business ideas might be just what the customers ordered.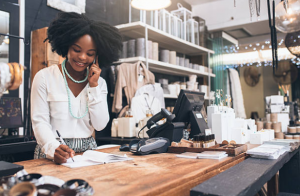 This wouldn't be implying we are suggesting a full-on night club bar, merely a morning tea and coffee shop that after 4 pm, can also serve wine and beer. You will probably need to check with the licencing laws for the establishments selling alcohol too. The concept over a coffee shop that then later serves alcohol is that in the post-noon hours, coffee consumption begins to diminish significantly; dropping sales. If you're looking to stay open later and need the extra trade, additional amenities in your small community is the perfect business idea. Not only will the shop have a place for small and less formal business meetings, but also happy hours and first dates.
Pet Grooming And Boarding
Pet Businesses today account for an estimated $60 billion in the industry within the USA. It makes plain sense that a small town has to have at least one pet grooming or boarding facility, or a combination of the two to harness the potential. This industry is also one of the sectors that shows no signs of slowing down any time soon. In the 1990s, at least 50% of households in the United States owned at least one pet. More recently, in 2016, the percentage has risen to 65%. This correlates to that there are almost 80 million homes in the U.S, with at least one pet.
Lawn And Gardening Service
Another thing that most areas have; especially your smaller towns and rural parts, but also most places in general, is greenery and grass; lots, and lots of grass. Since towns tend to be in rural areas, and residents are likely to have lawns and larger gardens, customers will keep an eye out for quality landscaping, lawn and gardening services.
A few benefits that come with starting a business, such as this within a small town is its predictability, reliability, and scalability. Once you begin to gain customers, and as long as you have quality services that are reasonable but competitively priced, you're likely to keep them as loyal customers for years after.
Gym/Exercise Studio
The physical body and capabilities come in many different shapes and sizes; so do gyms and exercise studios. The millennial appeal of spacious gyms with rows and rows of weights with aisles of cardio equipment is losing popularity. Meaning, there is no better time than now to capitalize on the individual-focused fitness trend.
Hair Salon/Barber Shop
This business model is always a win-win situation. There is only usually only one factor to have when determining the potential success in this business type, skill sets and qualifications. Regardless of the customer's age, everyone may want their hair cutting throughout their life.
Ice Cream Shop
Deciding to open an ice cream shop in a town is a business guaranteed to draw a crowd of customers. Half of the job is being the boss of knowing your product, being familiar with the most popular ice cream flavour, and having a willingness to work weekends are some factors to take into account. The other half is sourcing your products and sales. Only remember that this business type generally comes with facing seasonal changes.
Of course with any food and beverage industry, there will be health and safety regulations that need to be strictly adhered to. Be sure to check with your local authorities on the licenses needed to obtain to start a business in food and catering.
Gift Card And Flower Shop
Each year, an average of 6.5 billion greetings cards will be sold to Americans and sales are estimated at around $7 to $8 billion annually. Those living away in the rural areas often don't have access to stores that sell cards and fresh flowers, at least not in their immediate vicinity. Recent studies show; according to the greeting card association that the majority of cards and flowers are purchased from big brand supermarket stores. Providing customers in your town with a store to buy cards and gifts as well as a great retail opportunity. One of the most significant costs you will be faced with is the purchase of a cooler to keep your plants and flower products fresh and cool.
The variety and diversity of products you can stock and sell are endless, which allows you the freedom to play around with your inventory until you find that unique mix of products for your small town business. Plus, the profit margin on gift cards can be quite high, making this a potentially very lucrative business.
With all the potential ideas out there to start a successful small business, it's hard to choose what one to take on board. There are all sorts of tech and gadgets available on the market to help small businesses improve their internal workings, such as accountancy and administration workloads. Not to mention the technology such as a credit card reader for iPhone or Android, which allow you to take payments and pay clients over your mobile device.
Do you run a small business? Do you run one of these businesses? Or are you thinking of starting a project up and thinking about the prospects your business can bring? Let us know in the comments on what you think in the comments below!
Staff Writer; Sherry Carter