Why Do We Love Beyonce?
(ThySistas.com) Iconic, diva, bootylicious, fierce, humanitarian, businesswoman, mother, wife, daughter and so much more to women and men around the world.  Beyonce Knowles-Carter is a woman that is in a league of her own, time and time again.  We first loved her back in the early 90's when she was standing beside her girls from Destiny's Child in a music video called No, No, No.  Her blonde tresses, sassiness and voice made us all pay attention to her, regardless if we wanted to or not.  She's a music artist and woman, that we watched grow up right before our very eyes in this lifetime.
Although she is a very private person (she learned this way of living from Oprah years ago in an interview), we have seen the basics of her life in front of the camera.  I believe we love Beyonce so much because she's just like any of us and her heart is of pure love and gratitude for her fans and our African American culture.  As life keeps happening within our culture, she keeps creating artistic ways to have those difficult conversations that is so needed and she always finds ways to take actions when needed.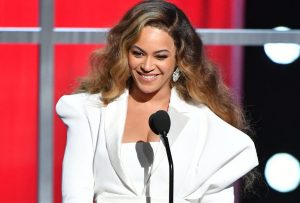 Now of course with every great human being, there's some naysayers.  The Bey-hive aka Beyonce's biggest fans, have known to drag people who even think about saying something negative about Queen B.  It's really more to it, than what we see.  She made a full album about what she went through in her marriage, as we gathered that Jay Z cheated with a "Becky" (white girl).  Something so private that clearly no one knew about until the album was released, she was still talked about for efforts to promote the message behind forgiveness overall in her songs.
As fellow women who often suffer from having low self-esteem, marital drama, understanding the power of sisterhood, being estranged from a parent, bearing children with complications, being a businesswoman and balancing motherhood, that the naysayers would cut her some slack but of course, they didn't.  This is more reasons why we love Beyonce.  She's not afraid to share her insecurities to let you know that she's not perfect, no matter the amount of pressure people put on her, repeatedly.
She's always giving back her time and money to charitable causes that really makes a difference and impacts lives instead of just signing her name on checks.  During her tour last year with her husband, together, they gave $1 million dollars in scholarships to high schoolers and she gave $100k (25k each) to four historically black colleges better known as HBCU's: Tuskegee University, Bethune-Cookman University, Xavier University of Louisiana and Wilberforce University.  Lastly in keeping with supporting HBCU's, Beyonce recently launched a collaboration with Grambling State University Tiger Marching Band and the band was featured in a private Coachella event.
Whether you're a fan or not, there are tons of reasons to love Beyonce.  Her spirit and energy is unmatched (as it should be) and the legacy that she will most definitely leave behind is to be commended and appreciated in advance.
Staff Writer; Felicia T. Simpson
One may also connect with this sister online over at; FTSimpson.com.