Apps You Can Use Every Day on Your Phone.
(ThySistas.com) If you are a business owner and operate your business daily from either carrying your laptop with you everywhere, or sitting at a desktop for hours upon hours, here are FREE apps that you can use every day on your phone to run your business:
Social media apps: Provide your clients or customers with informative posts, behind the scenes photos or videos of a day in your life, etc.  Using social media to operate your business is almost required in marketing today.  If you're not sure how to "Tweet" or confused about the most effective way to use Instagram, consider watching YouTube tutorials or hire a social media strategist to run your accounts for you.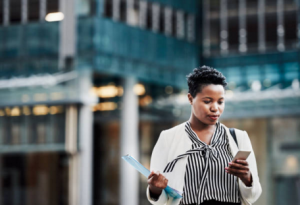 Bank, PayPal and credit card apps: If you are out here securing your own bag in your business, make sure you download your bank and credit card apps to stay connected to your money at all times.  You can transfer money quickly between accounts, send money or set up automatic payments, straight from your phone.
iScanner app:  Need a PDF file?  You can use this app to create those PDF files you need on the go.  This app charges under $5 monthly and is great for your business needs.  You can scan unlimited documents, export documents to clouds, you don't have to worry about ads popping up, it has text recognition (OCR) and you can batch scan documents.
Canva app:  You can use this app to create anything from a resume, presentation, flyer, social media posts and so much more to operate your business.  I use this app probably the most for my business (other than social media apps lol).  There are tons of templates to use or feel free and use a blank canvas to make your next presentation beautiful and professional.
Dropbox app:  Considered a modern workspace.  According to the app's description, "Dropbox is a creative collaboration space designed to reduce busywork, bring your files together in one central place, and safely sync them across all of your devices – so you can access them anytime, anywhere.  You can sync, share and edit Word, Excel and PowerPoint files.
Mailchimp app:  Do you use email marketing for your business?  Well Mailchimp has an app for you to create content for your business and send to your subscribers.  You can see the average percentages of your subscriber's open rates, campaign revenue, total of new orders, audience growth, average click rates and so much more.
Website app:  Need to make edits on content on your website, edit or publish a blog post?  Download your website's app and invite people to join your website, upload photos, share social media posts, manage invoices, add tasks or reminders, use marketing tools, change your settings, etc.
These are just a few apps that you can use to help you successfully run your business from your phone every day.  Every business is different and requires different apps to use.  So make sure that you are downloading apps that are beneficial to your business needs.
Staff Writer; Felicia T. Simpson
One may also connect with this sister online over at; FTSimpson.com.