10 Must-Have Spring Wardrobe Staples.
(ThySistas.com) The weather is finally changing and we are almost in the clear of saying goodbye to winter, once again.  Once you put away those boots, hats, scarves and gloves, you are ready to spring into the cool but not cold weather, fashionably.  According to Glamour, "For spring 2019 there are already a handful of fashion buys that feel like they fit in either or both boxes: color-blocked button-ups, allover printed midi dresses, minimal hoops…some feel incredibly familiar, while others are direct responses and references to the latest runways."
Here are 10 must-have wardrobe staples you need to have in your closet this spring (in no particular order).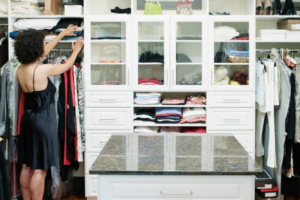 Belted trousers: The fabrics are light weight and provides the cool you need and pairs with fitted shirts or button ups.
_
Midi Dresses: You can always dress midi dresses up or down by adding a blazer or a denim jacket.  I love wearing these dresses while attending brunches.
_
Hoodie: Hoodies are great to wrap around your waist during the day and put on at night if you're still hanging out and the temperature begins to drop.
_
Earrings: Every woman needs a pair of go-to-earrings no matter the season.
_
Polka dot shirt: Pair this with jeans or a skirt for your business casual days or brunch with friends.
_
Straw bags/totes: Straw purses, bags or totes are so chic and can carry all of your personal items with you daily.
_
Loose or Boxy Jeans: Loosen up a bit, it's spring!!!  Store those skinny jeans and wear more jeans that are loose fitting so that you can feel the breeze, literally.
_
Jacket or blazer: Jackets and blazers can be worn with anything.  Again, we haven't quite made it to summer yet so temperatures aren't usually in the mid 80's much.  You can make or break an outfit by simply adding a blazer or jacket to it.
_
Button up shirt: Headed to your next meeting?  Throw on a button up shirt with a pair of slacks and go close that deal!  Stylist tip: "Take your button-up up a notch by choosing one in a luxe material like viscose, Tencel or silk." — Stylist Jennifer M.
_
Simple flats: Every gal needs a simple flat pair of shoes.  Wearing heels all day long (if your feet survive) is not good for you.  You can dress an outfit up or down with a good pair of flats.
There are so many must-have wardrobe staples for the spring that you can wear daily or save them for those weekend events.  These must-have wardrobe staples can be worn by any woman no matter her lifestyle.  More than likely, you already have these items in your closet but feel free to go thrifting and find some or all of these items for a low cost.  Or take yourself on a shopping spree and treat yourself to those wardrobe must-haves for the spring.  You can always search online for more items that you should have but these are a great start for springtime.
Staff Writer; Felicia T. Simpson
One may also connect with this sister online over at; FTSimpson.com.