Different Ways to Engage with Your Online Audience.
(ThySistas.com) If you are running an online business, chances are that you will need to focus on creating engagement. Marketing is a numbers' game, but the truth is that you will need to focus on the right numbers. Anyone can get (or buy) followers, but how will they engage with your online content? Without engagement, you will not be able to make it in the competitive world of digital marketing. Below you will find a few tips on how to make the most out of your content.
Your Website
The first thing your potential clients will look at is your website. It needs to be professional, but it also has to answer the questions people have in their head. If your content delivers value to your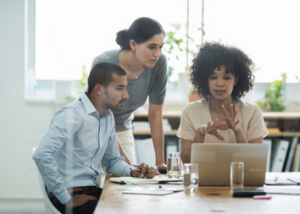 audience, you will be more likely to engage with them and create reciprocity and meaningful connection. While your website should be your shop window, you should also focus on helping and educating your customers to make them feel you really care about them.
Blog
Your blog should also be engaging, but it has to include some more behind-the-scenes and personal details, so people can feel like they got to know you through reading your posts. You should not fill your blog with information that not everyone would be interested in, and make sure that you are using a consistent tone when talking to your audience.
Facebook Lives
To take your personal engagement and content to the next level, you can also engage with your followers using Facebook lives, short videos, or even video marketing using sales letters that feature you talking about your product or service. After all, giving your face to your business will generate trust and emotional connections, and people are generally curious.
Webinars
To take your content delivery system to the next level, you might want to create webinars. This is much easier than it used to be, and you just need to check that your server is able to handle all the requests. It might be a good idea to find IT professionals and ask for more info about the technical requirements of running and hosting your webinars or publishing content, making sure that your servers are not going down.
Surveys
Surveys are generally not considered to be marketing tools, but they can be turned into a way to add people to your sales funnels. You can create social media surveys and make sure that you are able to gather intelligence about your ideal client while offering something irresistible, so you can make the most out of your relationship. People buy from people they know and trust, and finding out what makes people trust you can help you improve your marketing strategy.
If you would like to engage with your readers and potential customers better, it is important that you make the most out of your content platforms and test, measure, and improve all your posts regularly. Focus on the right numbers; engagement and conversions, instead of the size of your follower base.
Staff Writer; Carla Shaw