What Did Gabrielle Union Do to You.
(ThySistas.com) After reading Gabrielle Union's book "We're Going to Need More Wine" I found myself crying as I was able to relate to so much of her pain. I came to respect her as a woman and person through her sharing her life. I was so happy for her when I read she was going to be a mother after all that she has been through. I saw the picture posted in the hospital with her baby and husband and my heart was overjoyed for her. I was overjoyed for her family. Seeing this black woman win in the sense of finally holding her baby brought me to tears. There was a part of me that was itching to write about the beauty of that moment…especially as a woman that would never be able to have kids.
However, my joy was interrupted by seeing women bash Gabrielle Union's hospital photo. These women took issue with he fact that she had not physically given birth but was in a hospital bed, gown and looked as though she went through the act. The most disheartening part of this was a lot of the bashing I saw came from black women.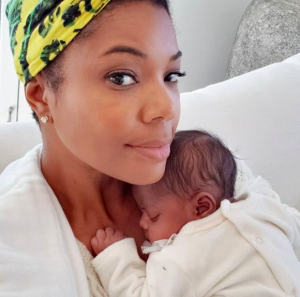 Sisters, what did Gabrielle Union do to you?! When did we get to the point that we crap on someone's joy over something so frivolous? Her picture took nothing away from other women. We don't know how long she has been at that hospital, and yes skin to skin contact is very important.  She looked like a mom with her baby for the first time. How is it that we could be so ugly? Some have argued "well I'm happy for her but she didn't have to stage a look like she just gave birth". Is that more important than celebrating this black woman's entrance into motherhood after all the pain she has suffered? More importantly sisters if this was your moment after having lost several children how would this have made you feel?
The hate would hurt, and you'd probably wonder if others knew how monumental that moment was for you. If they understood how many tears you have cried just to get to that one moment. Many of us would have been ready to lash out at the very idea of having a pure joy trashed by other women. How can we talk about sisterhood or Black Girl Magic when we treat each other in that hurtful manner?
Some of the women having a "sorry not sorry" moment bashing this new mother are also praying for children of their own. Some of them have faced the hardship of miscarriage and are battling with fertility issues, yet they judge another woman. The hypocrisy of the hate is unacceptable. There can be no discussion of unity when this is what we do to fellow black women. Yes, we suffer a lot of hatred at the hands of white woman…that doesn't surprise me. What hurts deeply is what we do to each other. It wasn't black men talking down on this woman in droves…it was more us than brothers.
We have got to learn to celebrate each other or at the very least not damage one another with the hurt one is carrying within. I'm so happy for Gabrielle Union. I pray for the blessings in her home now through that child. I refuse to drag a sister when there should be nothing but love.
Staff Writer; Chelle' St James
May also connect with this sister via Twitter; ChelleStJames.