Pregnant at 37 – Part II.
(ThySistas.com) I was determined to have a better appointment the next go around. I wanted to be positive about my pregnancy although I felt there was a cloud over my head. I was grateful when I received word that my blood work came back good. What I found to be difficult was explaining how I was feeling to those that were close to me. It was hard for some to understand that my age played a factor in the term high risk. I tried to remember some of my confidants were mothers, but they we not over 35, so they couldn't quite fathom how age played such a huge part in diagnosis. I set my focus to learn of ways to lower my blood pressure as I was not given suggestions. I realized I would have to take the situation by the horns, and everything on my mind could not be a discussion. When going through challenges in pregnancy its is natural to want to connect with someone that might understand or try to do such.  Sometimes even where there is love, support and lots of concern understanding is far from you.
It was in this space that I also came to realize everyone I loved was not happy for me. Envy was on the table as I received some nonchalant responses to the pain I was experiencing physically. If something went wrong…at least you pregnant…was the reason I needed to just shut up and deal with it. Ladies that is not fair, and none of us deserve to be subjected to that kind of negativity. Its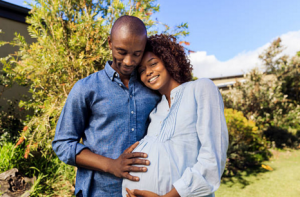 passive aggressive, it hurts, and it does nothing good for your blood pressure. I realized I was going to have to make adjustments to my immediate circle, because the goal was to redeem my joy and fix the blood pressure issue.
I drastically lowered my sodium intake, seriously increased my water intake, ate more fruits and vegetables high in potassium, took the time to meditate, and focused on being happy. Prayer became a force of strength for me as I approached the next appointment. I did all I could do physically to prepare myself, and I realized there was something missing. I needed to prepare to have a very transparent conversation with my doctor. We are both new to each other, so I needed her to understand there were several triggers in the last appointment. I felt being respectfully open with her so that I could have an understanding as to how she planned to approach my pregnancy verses assuming.
On the day of the appointment I was cool, calm and collected. My blood pressure was awesome!! Not only was it lower it was in normal range. I was so excited. When I talk to my doctor she explained that from her standpoint I have high blood pressure despite my new reading, and my pregnancy is high risk. She told me that I should follow her as she's the OB. In that moment I explained that I did not have a good history with doctors.
My last OB was not attentive, nor did I trust him to deliver my baby. When she was told what I had been through she understood my apprehension. Furthermore, I couldn't accept high blood pressure off one reading. What I needed to come to terms with is lots of things in this field of medicine has changed in 5 years, so she was doing her job as mandated at this time. I realized my doctor would rather be proactive and treat my pregnancy delicately verses facing complications later. Her intent was what put my soul at ease.
I realize I am in control of how I choose to see things. Many women I knew that were high risk lost their babies or were seriously hurt after pregnancy. However, I had to understand I am not them. It is important that I respect my story and allow it to be my own. I have one healthy child, and I trust God for the same outcome with this baby. They may call it high risk, but I choose to say highly blessed. I walked out of the doctor's office feeling as though a burden had been lifted from my shoulders. I'm happy about this baby, and that is my focus. I'm actually looking forward to the next doctor visit.
Staff Writer; Christian Starr
May connect with this sister over at Facebook; https://www.facebook.com/christian.pierre.9809 and also Twitter; http://twitter.com/MrzZeta.