What Is Your Why?
(ThySistas.com) Are you an aspiring businesswoman?   Are you currently a businesswoman but not feeling of value anymore to your business?  Ask yourself this one question.  Why did you start your business?  Or why do you want to start a business?  Whichever question that you choose to answer, be honest with yourself about your why?  Don't think about the rewards (ex., earning more money), but really think about the sole purpose of why you are doing what you are doing.
We get caught up in so much comparison of our lives to others that we forget to measure what value we bring to our businesses, relationships or motherhood.  If you're a mother of three beautiful children you may compare yourself to a blogger who's also a mother of five children and have amazing photos in your timeline, that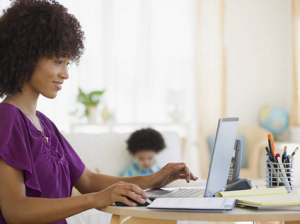 makes motherhood look amazing.   If you're single and everyone around you is either married or engaged to be married and suddenly, you feel like you're doing something wrong in life.  Why did you become single in the first place?  You became single, in order to become more focused on your business that you want to start or to commit to a deeper spiritual connection with God without any distractions.
We all fall off track sometimes and forget why we are doing something.  The new year is approaching and we're excited to start setting new goals for ourselves and it is imperative to think about your "why" while you are creating your goals.  Why are signing up for that gym membership, again?  Why are you going to travel more?  Are traveling more just to upload photos on social media to appear as if you have the perfect life?  Or you're traveling because you want to create special memories either with yourself or with the people you love (even if you don't snap one picture while you're traveling)?  Again, what is your why?
If you're a business owner and have to make decisions daily that affects the sustainability of your business, always factor in your "why."  Don't worry about appeasing the most popular trends at the moment, but focus more on why you started that business and get feedback from your customers on ways that you can improve your business, if it is not doing so well.  Sometimes, we lose focus doing what we want for our customers, and not focused enough on what the customers want.  Social media has provided us with great tools to use, to help you get back to your why (which is your brand), that will help you enhance in your what (which is your business: your products or services).
Going back to your "why" is important to do periodically.  It helps you make sure that you are staying on track and it reduces stress that comes in those moments when we fall off track.  You can tell when you're why has become your how or what?  You get overwhelmed, you get frustrated a lot, you compare yourself to others, you are not making the best decisions, etc.  Knowing your "why" is not saying that everything will be perfect in your life, it's simply helping you navigate through what keeps you motivated and operating in your purpose.
What is your why?  If your why has changed due to maybe a life change, like getting married or recently having a child, that's fine.  Do some self-reflection and get back on track to knowing clearly, what your why is.  Your why is your story/journey and is not to be compared to anyone else's why.  If you are having trouble figuring out your why, talk to an expert or someone that can help you gain more clarity.  Finally, know that your why in life not only has helped you but is also of value to others.
Staff Writer; Felicia T. Simpson
One may also connect with this sister online over at; FTSimpson.com.