The Building Blocks Of A Successful Business In 2018 & Beyond.
(ThySistas.com) The business landscape is constantly changing. This means that you have to adapt if you want to succeed – both now and in the future. I know most of you reading this are keen to get started in the business world and become entrepreneurs. You want to make something of your life and prove that you don't need to be a man to be a successful business owner. Some of you may have already tried to start a company and failed – but that's okay! It's good to fail, as you can learn from your mistakes.
Usually, the number one mistake everyone makes is that they don't adapt their business to fit the current landscape. There are certain things you need to do if you want your business to be a hit right now and in the future as well. I call these the building blocks of a successful company (pretty catchy, right?).
Basically, these are a few essential things that you must ensure your business focuses on. Throughout this long article, I'll show you all of the building blocks and explain a little about why they're vital. So, strap yourself in and get ready for a trip down business success lane.
A Strong Digital Presence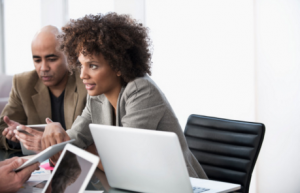 To start things off, every successful business needs a strong digital presence in the modern era. You don't need to be a genius to figure out why this forms one of the building blocks of a great company. With a strong digital presence, your organization has the potential to be seen far and wide. Not only does this open up opportunities to expand into different territories and grow your customer base, but it also means you can tap into local markets with more ease as well.
There are two key areas to focus on; search engines and social media. A strong search engine presence means your business site is always popping up in search results and is usually high up in the rankings. This creates authority around your brand, meaning people instantly start seeing you as a company they can trust and depend on. It also means there's more chance of you getting lots of web traffic as people are more inclined to click on the first few results they see. With a strong social media presence, you can tap into the millions of users that are always looking at social channels every day. It gives you the chance to build a brand image and interact with consumers. Lately, social media has also become an additional way to generate sales as well.
As a general rule; if you build a strong digital presence, you'll create a successful business. Arguably the most important thing to think about is ensuring your company taps into the digital market on mobile devices as well. So, make sure you have a mobile-friendly website and rank well in mobile searches. These days, people do everything on their phones; if they need something, they take their phone out and Google it. Miss out on the mobile market, and this will destroy your digital presence.
An Emphasis On Technology & Automation
If you opened up every successful business in 2018, you'd find a load of technology under the hood. The simple truth is that all companies must start adopting technology in almost everything that they do. Why? Because this enables more automation in the organization. What does this mean? Basically, automation is where specific tasks are handled automatically by a piece of software or machine, rather than a human. This helps your business as it can speed up your workflow and mean you get more done every day.
There are loads of ways a business can change the way they work to increase their emphasis on technology and automation. Nowadays, there are companies like DataServ, L.L.C. that provide software to help automate financial aspects of your business. This can dramatically speed up the time spent writing invoices or trying to pay members of staff, etc. The same goes for HR software that lets employees clock in via an app or their work computer. It prevents the need for a human to go around ensuring everyone clocked in on time. In the retail space, we've seen self-service machines where customers can scan their own items without the need for a cashier to do it for them. All of these are examples of how automation works to speed up slow aspects of a business.
All businesses will need to use technology as we move forward in life. This is one of the significant reasons you have to start implementing more software in your company. Get more work done, save money by swapping out paid employees for automated software, and watch your business grow bigger and more efficient.
A Clear Focus On Being Eco-Friendly
A decade ago – or even just a few years ago – this wasn't something that many businesses were too concerned with. Sure, they may have thought about being a more environmentally friendly company, but it wasn't at the forefront of their plans.
Nowadays, this is something every successful business is striving to do. Everyone is more aware of global warming and climate change, which is why governments all over the world are trying to clamp down on waste. A lot of the fault lies with businesses, as they generate so many different waste products all the time. Even a small office business can create a mini landfill of paper waste, ink cartridges, and old office supplies.
As such, there's a movement to be more eco-friendly in the business world. Try and use less paper, try and consume less energy; just try and be better for the environment. Why is this a building block of success? There are a few reasons, and one of the main ones is that eco-friendly businesses gain really positive reputations. Consumers will respond well to a company that's trying hard to minimize waste and look after our planet. As a result, you could find it easier to generate a large base of loyal customers. As everyone knows, creating a substantial customer base is the key to repeat sales and big profits.
Not only that, but it can also help you save money in the long run as well. Recycling and being more energy efficient will help you lower your regular outgoing costs. Especially in the energy department, where you can slash business bills by a ridiculous amount.
A Sustainable Business Idea
Of course, we can't talk about business success without touching on the idea behind your company. Every entrepreneur thinks they have a fantastic idea, but I have one question to ask; is it sustainable? Is this idea something that can bring in success for many years and decades to come? Or, is it more of a flash in the pan type thing, which generates profits for a bit, but then fades away very quickly.
We've all seen examples of companies that looked to be doing great and then fizzled out. The whole purpose of this guide is to set you up for success in 2018, and beyond. Without a sustainable idea, you'll never see success in the future. For me, that's the key to what makes a brand as big and profitable as can be. Think about all the huge companies out there like Starbucks, Coca-Cola, Apple, Windows, etc. What do they all have in common? They've been successful for decades, and show no signs of slowing down.
The obvious question is; what makes a business idea sustainable? Well, the obvious answer is that it's an idea which focuses on long-term consumer needs, rather than short-term ones. However, one thing I think is essential is that the concept is adaptable. It's an idea for a business which you can adapt and alter as time goes on. This is ultimately how you stay relevant for such a long time. Look at Apple as a prime example of this; what was the initial idea for the business? It's a technology company that manufactures computers. As time goes on, the business has adapted the idea to include more and more products and services. They can do this because the initial idea allowed them to do so.
I guess what I'm saying is; don't back yourself into a corner from the word go. Don't choose a business idea that's so specific and targets such a niche that it can't ever be adapted and built upon.
My Final Thoughts
I thought I'd wrap this up with a few of my final musings on everything that's just gone down. I can appreciate that there's a lot of information to take in, and I don't expect you to remember every single detail. Instead, make sure you leave knowing what the building blocks of a successful business are.
If you can build a company that places emphasis on technology/automation, grows a powerful digital presence, works on being eco-friendly, and has an idea that's sustainable, then you'll be heading in the right direction. If you already have a business and you notice that a few of these building blocks are missing, then make sure you start implementing them right away!
Staff Writer; Sherry Carter