New York: Getting A Taste Of The City Of Dreams.
(ThySistas.com) Amongst the many cities of the US, New York, New York is undeniably special. It's not the capital nor the richest, but it is the most populous, most popular with tourists and, perhaps more importantly, it represents one core part of American culture better than any other place on the continent. New York is a land of artistry, ambition, and inspiration. There are few better ways to feel that creative spirit and that quest for better surging that to walk its streets. The next time you want to feel inspired, here a few places really worth checking out.
See the most important lady of all
What with all the debates on welcoming newcomers to our shores, the Statue of Liberty has become a challenging sight to many, just as much as it is a titanic achievement and an ever-standing representation of what the very best of our nature as a people can be. A tour of Ellis Island and making your way up to the crown is enough to get any heart swelling with pride over the aspirational core of what it means to be American. Of course, it can get crowded with tourists, but that's simply because the image is so iconic, and the vision is so powerful. It's hard not to get an up-close look at New York's first lady.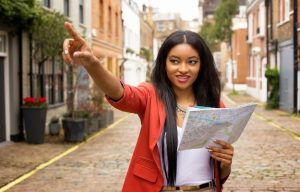 Where art triumphs
If you want to feel the real stirring of that creative soul inside you, then galleries and museums are always a safe bet. It's also a safe bet to say that the Met Museum rivals the very best that can be found in Europe or anywhere else in the world if it doesn't outright surpass them. From Renaissance masterpieces to modern thought-provokers, homegrown art depicting the rise of the American spirit to a closer look at pieces from all around the world, it is one of the most complete and impressive art museum experiences you could ever wish to have. With an always-changing body of exhibitions, it's worth a stop every single time you visit the city.
See a show
Some people like their art a little more active, a little more directly engaging. New York has the single strongest theater scene in all of the country. If you really want the full experience, then the chance to visit Broadway and see a show like Kinky Boots in NYC is essential. What show better captures the idea of aspirational and the ambitious than that of fashionable creatives making their way in the world? Of course, it's not all on Broadway. Off-Broadway shows can be a little more affordable, not to mention a little more experimental, than their famous counterparts. Wherever you go, it's worth catching a show while you're there, we can say that much without a doubt.
Join in with the locals
As such an amalgamation of peoples as it can be, you can't really pinpoint the "culture" of New York. It's part of what makes it so inspiring, dizzying, and even a little lonely at times. There are communities, however, amongst the urban hustle and bustle. You see it not just in the little shared quirks and etiquette oddities, but also in places like Madison Square Park. Just a trot away from perhaps the most tourist riddled part of this city, this park often has community events going, from horticultural exhibitions to culinary experiences provided by all the chefs of the local establishments. It's a good way to feel like you have your finger on the pulse of the city for a moment before it sweeps you off your feet again.
The original playground of the world
People tend to think that it has long passed its glory days, but Coney Island in NYC is always worth a trip. True, it may not be the superstar megahit amongst tourists that it once was, but now it's represents something different. There are still plenty of thrills to enjoy, but the old-school boardwalks, lit-up signs, and classic rides feel more like a celebration of achievements of the past more than anything. It's a glimpse at what people could once achieve and how the city was and still is a show for the whole world. There's still great food, there's still the wonderful beach, and there's a baseball game or two to enjoy while you're there.
Your first trip to New York can really leave a mark on you. So, too, can the second and third, for that matter. It's one of the greatest muses of the US, and worth visiting for that fact alone.
Staff Writer; Shelia Day