Over-Protective Styling.
(ThySistas.com) When we find something that works in our hair care regimen there is excitement. Hair tends to have a mind of its own, and it is our job to find out what it will need to grow. Every head of hair doesn't accept the same products, nor styling. Though we must navigate the differences of our hair there are certain things we must all do to have a healthy head of hair. Of course, staying hydrated, keeping a clean scalp and deep conditioning is pretty much the law, also protective styling is definitely an asset. However, there is a such thing as over protecting your hair. It may be hard to believe, but like with most things, too much of anything isn't good.
Protective styling come in many forms (various forms of braids, faux locs, sew-ins, wigs, flat-twists, etc.). It allows the hair to grow without the daily manipulation which can be damaging, and it is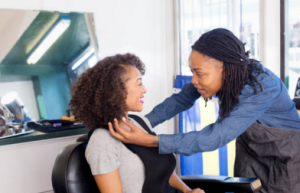 rather convenient. Many of us have to spend many hours tending to our hair, and that adds up when we look at how much is on our plate. The convenience of protective styling for many rivals the growth quality. The problem comes into play when the hair, and scalp doesn't receive a break from protective styling. Back to back repeated protective styling runs the risk of working against the growth intended.
Its important to understand that whichever protective style you choose your actually hair still needs maintenance. Protective styling is not a break from caring for your hair. Sometimes the mistake is made in forgetting the hair under the wig, and in the braids, can become damaged during protective styling if its not cared for. Yes, you want to maintain, in some cases, the synthetic hair…but it can't become most important. When braids are too small, the hair is too heavy, or the braids are in your hair too long this can all cause damage to your hair, and soreness of the scalp.
Even if you don't loose your edges, from styles that are too tight or a badly applied lace front, your edges can begin to thin out. When you want the style to last a bit longer that's usually when your hair is in jeopardy. Having a stylist clean up your braids, whereby they cut the hair sticking out further undermines the purpose for protective styling. That is not a trim.
One of the biggest concerns with protective styling is not giving the hair a break between styles. Your hair needs to be washed, and deep conditioned on its own to have time to take in all the nutrient it needs. The time in between styles gives you an opportunity to better know your hair, and what it needs. Your hair will have different needs at different points in your hair journey. Giving your hair time when it's not restricted I styles may seem inconvenient, but it will benefit your hair goals. Over-protective styling your hair can completely undermine the reason you put your hair away. Finding a balance in styling your hair will allow you to fully see the positive results of protective styling.
Staff Writer; Christian Starr
May connect with this sister over at Facebook; https://www.facebook.com/christian.pierre.9809 and also Twitter; http://twitter.com/MrzZeta.