Protein: How to Incorporate it into Your Hair Routine.
(ThySistas.com) When it comes to protein, it doesn't just do your body good. Protein is an important element for your hair as well. Yes, your tresses naturally is or has protein (Keratin), but with all the factors that it's up against – climate, heat, chemicals, etc. – it becomes necessary to find ways to get it into your hair care regimen.
There are so many benefits of doing this, but some women still don't understand how much protein can help them reach their hair goals. That goes for processed and natural hair.
In fact, the natural hair movement is one of the reasons that protein has been brought to the forefront of the hair conversation. It takes more than just not getting a relaxer to have a healthy scalp. And because there can be so many things to consider when your tresses are in their natural state, adding things like protein to them mix is just good practice.
Here are a few ways to do that.
Overnight Protein Treatments
Sometimes, your hair needs a little more tender love and care than usual. That's where an overnight protein treatment can help you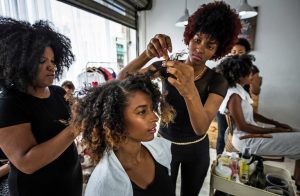 tremendously. The hustle and bustle of life a lot of times means unintentional neglect. Palmers Coconut Oil Formula Deep Conditioning Protein Pack is great for this purpose. Free of the bad stuff, it can be left over night and is super affordable.
Reconstructors
This one may be new to some folks, but reconstructors are great because, surprise, they help reconstruct your hair in the right direction. They are ideal for those needing an instant boost, which usually rings true for processed and colored hair. Aphogee Keratin 2 Minute Reconstructor and Aphogee 2 Step Reconstructor are two of the best on the market as they both work effectively and powerfully to get the job done. You can even use heat to help really feel the lasting effects of these products.
Deep Conditioning Masks
I am a huge fan of these because they work so well. You put your hair through so much and often, it needs some deep conditioning to recover. A mask is the perfect way to go! Briogeo Don't Despair, Repair is great and although it's up there in price ($36 from Sephora) many customers swear by it. Especially since it can reduce breakage by up to 81%.
Intense Protein Treatment
Finally, after you've tried all of the above, it may be necessary for you to go even deeper. That's where an intense protein treatment comes into play. Most treatments are only one step and there are some that include two. However, if you need something like a miracle, try Dr. Miracle's Miracle Repair 3 Step System. The kit includes a non-lathering conditioning shampoo, a reconstructor, and an intense moisturizing masque and works well for relaxed and natural hair.
Learn the building blocks to having great hair and make an effort to get the good stuff into your life. Try these out for size and see how they work for you.
Staff Writer; Rasheda Abdullah