Invest In Your Home For Big Financial Gains.
(ThySistas.com) Whether you're thinking about buying, have just bought your first home, or have moved for the third time already, there's no doubt that being a homeowner is a huge investment. Not only does it give you the security of having a roof over your head no matter what, but it is also cheaper than renting, and when your mortgage is all paid off you have a huge amount of money per month from your salary not getting swallowed up by bills. You also have the option, when you retire, of selling up, moving to a smaller property, and using the profit made from the sale of your home to help you have a more luxurious retirement.
If that is your plan, then it makes sense that you would want your home to be worth as much as possible when the time comes to sell it. Obviously, house prices are nearly always on the way up, partly because of inflation, but mostly because property is always a hot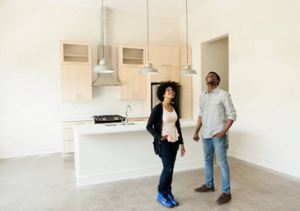 commodity. You could choose to fund some changes by adding the cost on to your mortgage, or by taking a look at secured personal loan rates; the choice is yours. There are many ways to spend a bit of money on your house to make sure it's worth a lot more than what you paid for it, below are just three options you could consider.
Refit the kitchen or bathroom
These rooms are a strong selling point for any home, and if yours are not up to scratch or are particularly dated, you could be knocking thousands off the value of your home. Make sure you invest in good quality suites that will last for many years and avoid gaudy or overly trendy styles. Making sure your master bathroom has a full-sized bath will help the sale to buyers who may have young children, and a walk-in shower will be great for those who might have elderly relatives too.
Add a conservatory
Conservatories have always been popular with house buyers; they are a great and inexpensive way to add some valuable living space to a home. Not only are they great to have somewhere to enjoy the sun a little bit more, but they are a lovely place to relax on a rainy Sunday afternoon with a glass of wine and a good book as the rain gently drums on the glass. Conservatories usually require very minimal planning permission, so it shouldn't be too hard to get one installed.
Build an extension
The easiest way to add more value to your home is to make it bigger, simple as that. A four bedroom home will nearly always be worth more than a three bedroom home. By applying for permission to build a two-storey extension, you open yourself up to the opportunity of adding some amazing luxuries to your house. Walk-in wardrobes, en-suite bathrooms, larger dining and living room areas, maybe even a separate study or games room. A good quality extension will likely add more value to your home than the cost of installing it, so it's well worth looking into.
Hopefully, these ideas have given you some food for thought about how investing in your property now could help you have a more luxurious tomorrow. It's never too early to start planning for the future.
Staff Writer; Natasha Ross