Pro's & Con's of the Frontal.
(ThySistas.com) Now not everyone knows what a frontal is so I'll do the honors of filling you in. A frontal is a hairpiece that is very similar to a closure piece, it is used when wearing wigs, weaves, or other hair extensions. A frontal encloses the entire front area of your head, the initial purpose is to protect the hairline from damage while giving you numerous options in ways to style your hair. A frontal hairpiece is meant to be glued down but using other methods.
Frontals can either be sewn down and semi glued or fully glued, or even using laced tape. Some even wear their frontals without any product for hold, installing a lace frontal with hair extensions can cut down on a lot of time, it doesn't take as long as your average install. It usually takes about an hour to install a full head of extensions with a lace frontal. The most popular way to install a frontal is by adhering the hairline with glue, this can be a blessing or a curse. If you're going to allow someone to install your frontal it is very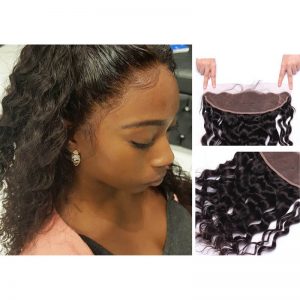 important to remember that not everyone is a certified or licensed hair stylist.
While on one hand if you go to a stylist they'll use adhesives such as "Ghostbond Glue" or "Got to be glued". Now neither of these products is the same, and I feel they work better when combined together.
Ghostbond glue is very strong and lasts up to two weeks sometimes longer depending, and the product got to be glued, is not very tacky and usually last a day or two if you're lucky, when using the two they coexist great in order to give a strong hold onto the hairline. Another way to install a frontal is using lace or wig tape which I would not recommend to anyone, this method is very harsh on the hairline and tends to cause damage to the client, the tape method also does not lay as flat as the frontal with adhesive would.
While frontals are very versatile, I do not recommend them to every woman. Like I tell girls frontals are a lot of maintenance and if you don't know what you're doing or can afford to have someone touch it up for you after about every week and a half then you'd be better off with a lace closure. A frontal has baby hairs (amount depends) so you have to be sure to keep them nice and keep your hairline/ frontal clean. If you don't you'll end up with a horrid frontal and crunchy baby hairs, please don't be the girl rocking the busted frontal.
If you don't know all the maintenance of a frontal do your research and see if the frontal or closure is the best fit for you. Lace closures are much easier to maintain than frontals, closures are traditionally sewn down completely. Find a stylist who will cater to you and the needs of your hair don't go sit in Janet's Kitchen for her throw something together, I hope I've helped ladies !
Staff Writer; Myra Moore