NaturAll Club Gives Natural Hair the Fresh Treatment.
(ThySistas.com) Finding the right combination of products to maintain, and grow natural hair can be a challenge. When the mixture is wrong dryness, loss of luster, and the dreaded breakage could be on the horizon. Many sisters are now looking to black owned hair care lines. They are seeking products that gear more towards natural ingredients for their natural hair. Chemicals and toxins are now openly the enemy to healthy hair, and more alternatives are now available. NaturAll Club is an up and coming black owned product line that specializes in hair care. Currently they have carry products that specialize in dry, dull, and damaged hair. I recently had the opportunity to speak with the Founder and CEO of Natural Club, Muhga Eltigani, to get more insight on natural hair care company.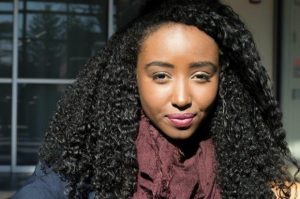 Could you give our readers some insight into the origin, or mission of NaturAll Club?
M.E.: I was frustrated with the products currently available in the stores. They made my hair dry, brittle, and unhealthy. This caused me to buy many different products, that ended up unused, which resulted in me wasting a lot of money. Trying to find products that would adequately moisturize my hair made me a product junkie trying to find something to work. During college, I cut off my hair and started fresh. For six months, I challenged myself to make my own hair product. That challenge was on my YouTube challenge where I shared my hair recipes, and got more hair recipes from the natural hair community. My products included fresh ingredients such as bananas and avocados…these kinds of products were not in stores. I decided to fill in the gap that would offer better fresher hair products for curlier and kinkier hair types. One out of every two black women have reported to make some degree of hair concoction. Whether they are mixing various oils, or proteins, what's so frustrating is that we are having to mix things ourselves. It's not fair because everyone else has products that cater to them.
There are many different concerns for naturals regarding the state of their hair. How did you narrow it down to dry, dull, and damaged?
M.E.: I sent out surveys to hundreds of black women, and I had several adjectives to describe their hair problems. Those three were the ones that most common with dry hair being chosen, by far, the most. So, what we did was formulate different hair products specific to those hair needs. A PhD candidate in chemical engineering, a fellow black woman, and I developed this first line of products.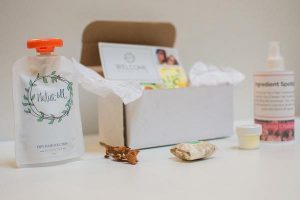 How important is consistency in the usage of these products?
M.E.: In general, for me consistency in the key to success in everything that you do whether its practicing piano, exercising more, or trying to make your hair better. Consistency is the key but, for whatever reason, when it comes to hair products people want a get fixed quick scheme. They think something will happen overnight. Just like you won't learn the piano in a day… to see true results you'd have to take care of your hair over a consistent period of time. To make it easy for consumers we have a subscription service where we have thousands of black women registered to get these fresher products delivered to their door each month. It's a reminder that you need to deep condition your hair this month, and next month, and the following. Especially with new growth coming in, you want to make sure that you are keeping your hair great from the beginning. This is something that is lacking in a lot of people; regimen is just that consistency needed as you might have the right product, but don't use them enough. We try our best to make this easier for black women, which is why I call NaturALL the NaturALL Club. That Club aspect of getting things each month is so important.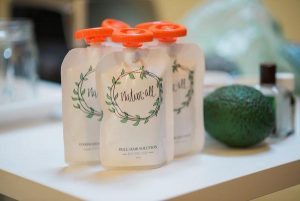 Fresh avocado is definitely good for the body. How does it benefit the hair?
M.E.: We, at NaturALL Club, believe that your hair is part of your body, because of that the same good things that you put in your body you should put on your body. Avocados help the body when you eat them due to the natural fats…its similar to that for your hair. They contain vitamins that your hair naturally needs such as vitamin C for hair growth, and vitamin E to repair damage. The fresh avocado meat actually penetrates your hair for more moisture than a product with just oils. We wanted to offer something that is able to penetrate your hair much more than any other oil, because for curlier and kinkier hair types we need more moisture in general. We go above and beyond what your regular products might contain. The freshness is why the product is refrigerated. Just like you'd have to refrigerate guacamole you'd refrigerate our hair products.
Customers can order a month's supply of your products, or they can order them in three month intervals. How does that accommodate long hair?
M.E.: Our products are really concentrated so a little goes a long way. It's actually formulated for curlier and kinkier hair types. Knowing that usually you will go through a conditioner faster than someone with straight hair we concentrate it so you can get more out of your product. For reference, your average hair products contain 80% water, and that's on the low end. Our products contain 10-20% water; the rest is active ingredients. It's like having five different hair products into one. The hair products are definitely formulated by black women for black women.
NaturAll looks to offer customers a brand they can depend on to nourish their hair with fresh natural products. Ordering the products and having it sent to you also eliminates the time spent in the store trying to figure out what products will work well together. I am looking forward to trying the line for dry hair, and experiencing how my hair will respond to it. Finding products that will leave my hair hydrated and soft with no residue left behind is often my challenge as I have 4c hair. Until then you can go to http://www.naturallclub.com and look into the products they offer to get a feel for which one may work best for your hair. Its important to support the black hair care product lines that are made with our hair in mind.
Staff Writer; Christian Starr
May connect with this sister over at Facebook; https://www.facebook.com/christian.pierre.9809 and also Twitter; http://twitter.com/MrzZeta.