Healing after Experiencing Church Hurt/Spiritual Abuse.
(ThySistas.com) Life is full of unfortunate things. We all try to live an existence that is peaceful, prosperous and loving. One of the ways that people look to find this kind of experience is through attending church. For most black people, having a religious background is paramount to their overall quality of life. People put their trust in churches and pastors because they believe that by doing so, God will bless, keep and help them. But what happens when you experience hurt in the church?
Believe it or not, this is something that happens far too often in churches around the world. This is especially true in certain charismatic denominations. I spent 14 years of my life in a religious organization that I gave everything to. It was extremely strict and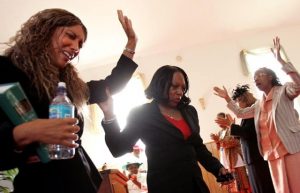 very polarizing, but when I was apart of it, I didn't see it like that. I was in too deep. When I finally left, I began a quest to find real spirituality and an authentic connection to a higher being. I also had to do a lot of soul-searching and a tremendous amount of healing.
Others have gone through similar situations. It can be extremely hard to find redemption, trust or believe again after experiencing church hurt. If you or anyone you know have gone through this situation, take it from someone who's been there- you can be healed. Here are some ways to find that healing.
Give Yourself Time
When I attended church, I was so involved, giving up to 60 hours a week (for free) to the organization. After I left, I gave myself time to grieve and reflect. It can feel like you are losing your family when you separate yourself from the familiar, so you will need time to process all of that.
Figure it Out
It can be easy to jump right into another church because you feel like the church is the place that will heal you from your bad church experience. For me, I needed to figure things out. I couldn't reconcile why God would allow people who claim to have the truth treat me the way that they did. My faith was sorely shaken. I needed to figure out what I believed. You may need to do that too.
Don't Blame God
If you believe in God, then know that he is with you. Don't blame him. People are created in sin and that sin, even in religious situations, can creep in and corrupt that which should be pure. The people abusing their power are the ones to blame. God has not forsaken you.
God is for You
No matter what it may seem, God is for you. He wants to see you win. So you have to work through the hurt and the bitterness and believe this fact. It can be hard when you see everything you're facing but know that it is true.
Forgiveness is Hard, But it is Necessary
To be honest, this is still something that I struggle with. I am a lot better than I was, but there was a time when I didn't see the point in forgiving the Christians who hurt me so deeply. But I realized that in order to have a fully healed and great life I had to. It's not easy, but it's necessary.
Finding healing after hurt is a decision that everyone has to make.
Staff Writer; Rasheda Abdullah