3 Health Benefits Associated with Carpet Cleaning.
(ThySistas.com) Clean carpets enhance the appearance of your living space and extend the life of your carpets, but after speaking with a professional carpet cleaner, I learned there were health related reasons why we should have our carpets cleaned regularly. According to the American Lung Association, if members of your household suffer from asthma, snoring or other conditions that affect their breathing, it is crucial that you vacuum your carpets at least three times a week.
Aside from vacuuming, it is recommended that you have your carpets professionally cleaned at least once a year, and twice a year if members of your household suffer from breathing problems or smoke. I spoke with the professionals over at Champion Floor Services in Atlanta Georgia to learn more about other health benefits related to having a professional carpet cleaning. For those living in Sin City, jump online and see what is the cost of maid service in Las Vegas. No matter where you are living, there are companies who will do all the hard work on your behalf.  A house squeaky clean is a must for many.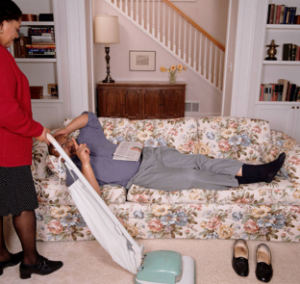 1.      Reduces allergens in the house. It is estimated that 40 million Americans suffer from indoor allergies and 25 million people have asthma. Daron, of Champion Floor Services, stated that "allergens move around in the air you breathe and soft surfaces such as carpets, rugs and upholstery act as giant filters, trapping allergens as they settle from the air". According to Champion Floor Services, you can greatly improve your indoor air quality by having your carpets, rugs and upholstery professionally cleaned every 3-4 months. It is also recommended that you inform carpet cleaning services of any breathing problems members of your household may have as products differ according to the resident's needs.
2.      Prevents mold growth. Dirty carpets are at a higher risk of developing mold growth when exposed to moisture. Moisture gets tracked into the home during wet and cooler seasons and sink deep into the carpet fibers if it is not dried and vacuumed immediately, according to Champion Floor Services. When carpets are regularly cleaned, mold and mildew growth is prevented by use of drying tools that extract moisture. Mold can be harmful to your health if ignored too long.
3.      Clears out dust mite infestations. Homeowners are not usually aware that many homes have dust mite infestations because these creatures are microscopic. Daron explained that "Dust mites leave behind body fragments and feces which are allergens and cause the residents to suffer from allergy symptoms". These microscopic sized particles are easy to inhale when the area is disturbed, creating more allergies and cold like symptoms. Many professional carpet cleaning companies such as Champion Floor Services, use a technique known as steam cleaning which exposes dust mites to high temperatures that they can't survive in.
Carpet and upholstery cleaning is one of the most inexpensive forms of home improvement one can do quickly. After reading the statement from the American Lung Association and speaking with Daron of Champion Floor Services in Atlanta, GA who greatly enlightened me, I learned about benefits that far outweighed the aesthetic benefits. As one who suffers from asthma and allergies, I will be incorporating a new addition to my spring and fall cleaning.
Staff Writer; Dina Tuff
333rd Eye Healing Temple
Reconnecting Consciousness to Magick
Official Website; http://www.333rdeyehealing.com
Facebook: http://www.facebook.com/333rdeyehealing
Instagram: http://www.instagram.com/333rdeyehealing