Dating Again After a Failed Relationship.
(ThySistas.com) If you have been out of the dating game for a while, you should know that things have changed. I know for me, it has been almost 6 years since I "played the field" and with all kinds of technological advancements, I know that if I were to enter back into the dating world, there would be some adjustments to be made.
Getting back into the dating scene can be scary, especially if you've just recently had a failed relationship. For those who have been in a long-term relationship that subsequently failed, you may not want to venture out just yet. That is totally understandable because you need time to process your situation. But for those who are ready and looking to find that next someone special, there are a lot of things to consider.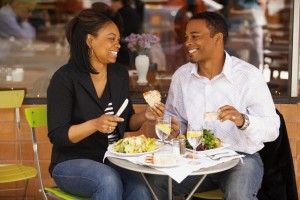 Here are a few tips and suggestions if you are ready to take that plunge back into the dating realm.
Get Yourself Together
Before you get out there, make sure you have the basics together. This includes having moved past your last relationship. Now I am not saying that you have to totally be over your ex, but just know that nobody wants to date a person who can't stop talking, thinking or what have you, about the person who broke their heart. It's not a good way to start a new relationship. Also, look at yourself and consider all the things you did or didn't do in your previous relationship and if need be, make some changes so that you don't fall into the same kind of situation going forward.
Look Online
I know this may seem silly, but I promise you online dating works. I found my significant other through an online dating service. He lived in Maryland and I lived in Tennessee. We've been together for more than five years and going so strong. Don't be afraid to take this route. Everything is not just about a hookup. There are quality people looking for the same things you are.
Try Speed Dating
Some folks will say that this method is played out or boring, but you can actually meet a lot of people in a short period of time. And who knows, you might find someone you like. The face-to-face interaction is always good and you can see right then and there if there is an attraction.
Think Positively
You can't go into dating expecting all guys or girls to be like your past love. Give people a clean slate and let what they do or don't do determine how you feel and how you deal with them. You're ready to meet new people, so do that.
…But Keep Your Guard Up
At the same time you are giving folks a chance, it's okay to have your guard up some. If someone shows you a side of them that concerns you, don't ignore it. You have to trust your instincts and if they tell you that someone is not good, then go with that. You're not looking for red flags, but if you see them, act accordingly. You're smarter now remember that.
Dating is fun and terrifying and tedious. But when you find the right one, it's definitely worth it.
Staff Writer; Rasheda Abdullah