Need To Get Away From It All? Visit North Carolina!
(ThySistas.com) Ever feel as though you need your batteries recharging? In today's fast-paced, modern world, it can often be hard to find any downtime where we can truly relax. Some of us rely on grabbing an hour in front of Netflix after work as the time we have to chill out – but ask yourself honestly, is this fulfilling your human needs? If you feel like you are using things like television or partying as your way to wind down when work is over, you may need to be careful. Sometimes, this kind of behaviour can lead to us feeling even more burnt out and stressed, if we start to overdo it.
One way to truly relax is to make use of any annual leave you have garnered and take a break somewhere rural and remote. If you can afford to purchase a vacation property in somewhere remote and beautiful, you've hit the jackpot. Somewhere as idyllic as this may sound out of reach, almost like such a place doesn't exist. But this is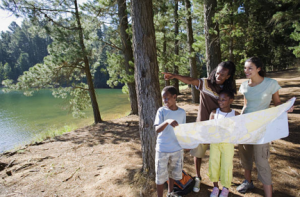 where you're wrong – North Carolina has it all. Read on to find out how it could be your perfect escape.
It has a landscape like no other

Sure, there are plenty of national parks in America, each with their own distinct allure. But none have a landscape quite as dramatic as the North Carolina Smoky Mountains. The Cherokee Indians named it the 'land of the blue mist', and upon visiting you can certainly see why. This national park is vast and you certainly won't find it hard to get back to nature here, with plenty of walks and hiking trails available. The only downside is the tourists – if you fancy somewhere a little more secluded, why not look for north carolina mountain cabins in other parts of the region?
It has the perfect mix of rural life and town life

Although the idea of packing up and going somewhere without an internet connection is a thrill for some people, for others it may seem a little drastic. Thankfully, you can visit peaceful places in North Carolina that still don't take you too far away from your home comforts. The triad towns of Greensboro, Winston-Salem and High Point are great examples of this. Here, you can delve into some historical culture in the morning, then take a relaxing stroll around one of the many wineries in the afternoon.
You can take a great road trip

It's no secret that wherever you go in America, it's pretty useful if you can drive. In North Carolina, take advantage of some of the amazing roads, and pack up your car for an epic road trip. The Blue Ridge Parkway is a track with plenty of amazing milepost stops, so you can stop and take in all manner of different sights. Catch the gorgeous waterfalls at Linville Falls, or visit Craggy Gardens for some mind blowing floral displays. You're guaranteed to feel miles away from work and the stresses of everyday life in a place like this!
Staff Writer; Laura Franklin