Are Black Feminists Man Haters?
(ThySistas.com) The definition of Black feminism is a school of thought which argues that sexism, class oppression, gender identity and racism are inextricably bound together. The way these concepts relate to each other is called intersectionality. Feminism at its core is a movement to abolish the inequalities women face. The Combahee River Collective argued in 1974 that the liberation of black women entails freedom for all people, since it would require the end of racism, sexism, and class oppression.
@http://twitter.com/drboycewatkins1 Unfortunately, many white feminists have taught black women to hate black men. The abuse is very hurtful
Does this definition mean that black men are hated? Dr. Boyce Watkins thinks that men may be at a disadvantage according to some of his recent comments including the above tweet he created YouTube video discussing in-depth whether or not feminism is getting in the way of black progression. See here:
Dr. Umar Johnson also has strong feelings on the feminist movement and how it affects black men. Dr. Johnson recently says that good men are led to pay the price for the feelings that these women have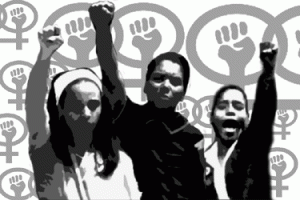 for the men who've hurt them, and it is to the detriment of the African American community. He says that these women will "lash out on any man they can find." Johnson believes that this "dangerous" movement has hurt black men the most, leading them to feel abused by women who think that black men are nothing but worthless criminals who exist to hurt black women.
Johnson goes on to say that a lot of these women have daughters who've been raised to hate black men, and many of them have sons that are being raised to be just as bad as the men they despise. Johnson says that the black feminists have been used as puppets of white feminists who had a war with white men. He seems to feel that black women and families have been caught in the white feminist war and that the black family suffers the most.
A Black man who nurtures his wife to become that which she believes she could be and vice versa could be an immense contribution towards turning back the hand of time on black urban destruction. A positive change can never happen without the first huge step allowing a young man learn that he can grow to be a real man and share in the nurturing responsibility of the community. Men must continue the internal battle and do the emotional work needed to be gender equality advocates and feminists. Despite all the work done to seek out knowledge and understanding, there's so much that oneself has to do as an individual and there's so much more we can all do to keep this conversation to the collective forefront of the Black community.
It's important that black feminist and black men are on the same page as we are one community. It is understandable that feminist can feel abandoned depending on past history with black men in their lives. Being a feminist simply means that you believe men and women should have equal rights, equal treatment, and equal opportunity. It doesn't mean that women should be placed above men or men are to be hated on.
What are your thoughts on the black feminist movement today and where do you think men stand?
Staff Writer; Amber Ogden
One may also view more of her work over at; AmberOgden.com.
Also connect via Instagram; 1amberogden and Twitter; MsAmberOgden.