Sometimes Marriage Drama is You.
(ThySistas.com) Many women claim to want a peaceful marriage, and a drama free life. This is very understandable as this is what many of us wish for. However, this kind of marriage is not born overnight. It takes work from both parties to achieve peace, and love in the home. Men have their part to play, and they have their issues to bear involving what causes drama. With that being said we must take account as wives for the influences, and behaviors that we allow to cause drama and foolishness in the home. There are times when too many people call, too many want advice, and too many are dumping on you as though you are the trash can.
Getting married does not give a woman the wisdom of Master Yoda. Ladies we must own that sometimes we allow drama into our lives that seep into our marriage. Our energy is affected by those we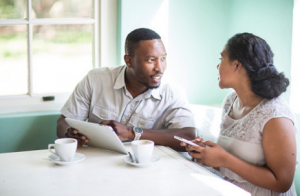 come into contact with on a regular basis. Getting married means we subject our spouse to what we allow. If the same girlfriends have something wrong day in and day out…and they choose to call you every day with it at some point you should assess the nature of that relationship. It's only a matter of time before you begin to get angry when they are angry, and it's only a matter of time for it affects interactions with those in your home.
Women are good for owning the idea of a woman's intuition. We must understand that men are not devoid of discernment. If you have a good husband he wants to do all he can for his wife to be happy. The problem is if she is dealing with the drama of others regularly nothing he does will be enough. When you find yourself constantly talking to your spouse about the drama of your friends it is too much. If cool to discuss your day with your husband, but if your main focus in conversation is the craziness of someone else your husband may begin to detest that friend.
Furthermore, is important to note…your life is NOT reality TV. That foolishness is scripted, and your life is not. You don't get paid to destroy your life. One must be careful not to put so much focus on that negative energy that it becomes a part of you. This is also extended to social media. Playing out one's life on Facebook or any other site is dangerous. Telling all of your business, and that of your spouse, is a sure way to cause drama in the home.
Disagreements should not be aired on FB for sympathy and attention. There is no need to say "I don't do drama". It will be already understood by how you live, and the conversation you keep. There is no reason for a grown, married, woman to engage openly in drama and nonsense. You can't control the energy in other places, but you have a direct say in how peaceful your home will be. In addition to peace…your husband will thank you for creating an atmosphere of tranquility.
Staff Writer; Christian Starr
May connect with this sister over at Facebook; https://www.facebook.com/christian.pierre.9809 and also Twitter; http://twitter.com/MrzZeta.