4 Ways to Find Out If You are Crossing the Line with your Work Spouse?
(ThySistas.com) Recent studies show workplace couples or having a work wife and office husband is the new normal in the work place. For all the single ladies and men looking this is great news for them. However it is posing a huge problem for those that have real wives and husbands at home. A study last year by career information site Vault.com found that 28 percent of those surveyed said they had an office "husband" or "wife," while a survey of 640 from digital programming and advertising firm Captivate Network found that 65 percent of the employees have or have had a "work spouse."
The Captivate study also found that the lines between personal and professional can get a little blurry, with 24 percent of those surveyed saying they continue communication on weekends and weeknights. About a third of respondents said their work spouse's appearance is important to them. Fifty-nine percent confided in their work spouse about problems at home, and more than a third discussed their sex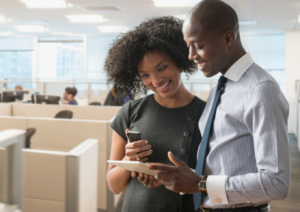 life with their work spouse. One participant in the Vault study wrote, "My wife even calls her [my coworker] my second wife. I talk to my coworker more during the day than I do my wife in the evening. I even caught myself saying 'Love you' to her ending a call a couple times once in front of my wife, but thank God we all found it funny."
Is this funny or offensive? Not all transgressions are considered funny. Here are four ways to make sure that you are not crossing the line with you work spouse:
Work Spouse, Meet Real Spouse
The easiest way to make it seem like you're crossing the line with your work spouse is to keep your relationship a secret from your real significant other. So don't. Bring them up naturally in conversation so that your significant other gets to know one another gradually through you, as a nice, non-threatening work figure.
Don't Be the Other Woman
On that note, we must remember this situation isn't all about us. Let's say your work husband has a wife. I would guess that this girl is much more in tune with her husband's work relationships than your significant other is with yours (because, you know, I am a girl and I do these things). I would also guess that she may not be totally thrilled that he's spending more of his time with you than with her.
Leave Home at Home
We all have an occasional lover's quarrel with that real life spouses. If there's trouble at home, talk through it with them, vent to your friends, or call your mom and tell her how much of a hero you think she is for being married for so long. But, whatever you do, do not turn to your work spouse for couple's therapy. Wouldn't you be hurt if you found out that your spouse was turning to their co-worker to talk about your problems? Show your significant other the respect he deserves by keeping these things private.
Leave Work at Work
When you're off the clock, limit communication with your work husband as much as possible. It's a fact of work-life that things will pop up and duty will call for late-night projects and fire drills, but texting outside of the office is building a bridge for him to cross over into your personal life. Sure, in moderation, it's totally fine but, too much, and you're likely sending him the wrong message. If you find yourself enjoying your after-hours chatting so much that you're looking forward to it and hoping it turns into more hang-out time during the weekend. Well, Houston, you may have a problem the size of Texas. You need to COOL IT.
To get right, you have to back pedal. You may need to stop having lunch. Keep your office door open. If you're on business trips, meet in the conference rooms or lobby, not in hotel rooms. If you sense anything is going on, nip it in the bud right away.
The bottom line is: Set and respect appropriate boundaries for your relationships, in and out of your cubicle. A happy home and office starts with sending clear messages. But if you stick to that, the two most important and supportive people in your life at home and work can stay that way.
Staff Writer; Amber Ogden
One may also view more of her work over at; AmberOgden.com.
Also connect via Instagram; 1amberogden and Twitter; MsAmberOgden.