Social Media is No Place for Laundry.
(ThySistas.com) We all have our moment of anger where life seems to become one big all of pain. There was a time whereby we would just pick up the phone and call a friend to vent about whatever has us heated. Well, social media is the place to find everyone. We sit back and watch the lives of celebrities and reality tv personalities and if not careful we'll begin to handle conflict in the same trashy manner as reality tv. Sistahs there are areas of your life that really should be private; the social media universe should not be able to chime in on your every issue. This need to be seen and/or heard that is acted out on social media has a price. If we choose to play in this universe we can't be mad when the consequences surface in our life.
Relationships should remain between the two parties involves. We live in a time by which discretion is a novelty. When you expose your relationship problems on social media you open yourself up to the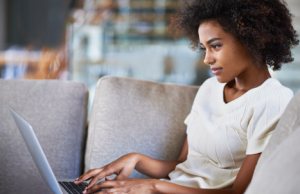 opinions and hatred of others. It's easy to say it's your issue and people should keep their comments to themselves, but if you make your conflicts a public matter…the public has a right to respond as they see it even if it is not in your favor. Fighting on social media can damage relationships, and even end marriages because the public fighting is both embarrassing and childish.
It makes reconciliation very difficult as you will also catch flack for doing so. Furthermore, social media shouldn't be used to shame a partner into behaving a certain way. Often times this backfires…if your partner doesn't do a certain thing embarrassing them won't help. We are adults…our relationship and marriage issues out not be a Facebook status. We must get back dealing with our issues face to face with discretion.
This leads to the next kind of laundry…beef. Personally I do feel many of us are too old for social media beef. However, this is another staple in reality tv drama which many of us partake of. At some point we have to get to a place by which we are too mature to deal in the cyber bully & fighting behavior. Too many folks type on a computer screen words they would never have the courage to say to someone face. Its again, childish…and sometimes it leads to real time conflict. I was once told by a wise friend that "cyber time can become real time real quick". We should never under estimate that we just may have to take account for our words. Furthermore, how can we be an example to young people if we ourselves can't govern our behavior like mature adults?
Dirty laundry has a place, and its not social media. There are many employers that try to find a potential higher on social media to gauge their character. I won't say if that is fair or not, but it happens. Baring our good, bad and ugly on social media can indeed work against us when we are seeking employment. Truthfully, we've seen many posts on social media about people that have lost their jobs for their comments on social media. Is the lack of discretion or control worth it? Yes, you have the right to do whatever you want…just remember that comes with consequences.
So many of us want to get on our conscious kick when events in our country happen, but we have to look at how we contribute to the energy in the universe. If we want the energy to be better we have to be willing to contribute to it. Sometimes its best to pick up a journal or talk to a friend before sharing your dirty laundry, of which you can't take back, on social media.
Staff Writer; Christian Starr
May connect with this sister over at Facebook; https://www.facebook.com/christian.pierre.9809 and also Twitter; http://twitter.com/MrzZeta.