Will We See the Tech Bubble Pop in 2017?
(ThySistas.com) Many investors have taken a keen interest in the technology sector, and for good reason. Companies such as Microsoft, Facebook and Twitter continue to make waves and massive returns have been seen over the past five years. However, we are beginning to wonder if this is all too good to be true. Some of us may remember the dot-com bubble and subsequent collapse of 2001. We saw the NASDAQ index fall no less than 78 per cent after peaking at 5,132.52 points. Obviously, many companies could not weather such losses. Billions of dollars and pounds were wiped away from this sector within the coming weeks and months. Have we once again set ourselves up for the "perfect storm"?
Technological Tigers with No Teeth?
Why are some analysts predicting what is now becoming known as "dot-com 2.0" in the coming year? One of the main factors revolves around the fact that many technological companies (particularly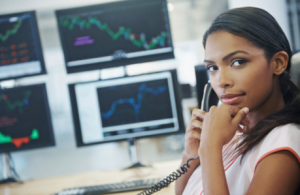 those found across the Internet) do not produce a physical good or service. Instead, they cater to what can only be called the whimsical desires of the online consumer. Instagram, SnapChat and WhatsApp all fall into this category. Should the desires of the online crowd change, these businesses could soon find themselves in the red in terms of revenue. This is even more concerning when we take into account that such behemoths have very little equity except that found within their share prices.
The Mythical Unicorn
One term which has gained a growing amount of popularity in recent months is what is known as the "unicorn status". In essence, this phrase is meant to refer to companies that have reached an aggregate valuation of one billion dollars. There are currently more than 200 of such companies around the world. Some such as Uber and Airbnb are worth well over $60 billion dollars. Much like the horn of a unicorn, we are left to wonder how much more these companies can grow before they reach their pinnacle and begin to quickly tumble.
Absurd Valuations and Inflated Flotation Prices
Any stockbroker will always keep a watchful eye on the flotation price of a specific company. Unfortunately, it is beginning to appear as if some of these prices have been blown out of proportion. SnapChat is a perfect example here. While provided with a very high flotation value, the fact of the matter is that it is estimated to pull in only £300 million pounds a year. This is far lower than the revenue projections that some provided during the listing process.
Another point to make here is that such companies are "said" to be worth well into the tens of billion of pounds and yet, there is little real data to back up such claims. We should keep in mind that the same figures were proven wrong in reference to powerhouses such as Twitter, LinkedIn and the ill-fated Groupon.
Warning Signs Ahead
In fact, there have been some warning signs on the horizon for some time now. First and foremost, confidence within the private sector has waned as stockbrokers are hedging their bets against both the Brexit and the United States election. Secondly, massive technology investment firms such as Fidelity have recently slashed their valuations of dozens of companies. Many smaller start-ups (Uber is a great example here) have been forced to tap into overseas markets in order to raise the necessary capital to keep operations running smoothly. We are left wondering when these virtual coffers will run out.
Remaining Pragmatic
With such a potentially volatile climate during 2017, stockbrokers need to remember to keep an objective perspective as opposed to cashing out and walking away. Indeed, the dot-com crash of 2001 provided space for smaller firms (at the time) such as Facebook to enjoy a solid footing. Keeping abreast of all of the latest developments with the help of CMC Markets is one of the best ways to make certain that any slide in share prices does not come as a surprise. With so many variables lining up for the coming year, it will be interesting to see what is in store.
Staff Writer; Sherry Nelson