Black Owned Hair Companies.
(ThySistas.com) In life, everyone wants a chance to make something of his or her self. I mean we live in America, the land of opportunity. One of the ways people achieve their dreams is by starting a business. With the progressive strides our country has made, black business is one of the fastest growing segments of industry.
Black owned businesses cater, for the most part, to their community and other people of color (POC). One of the most profitable areas is black hair and skin care. From relaxers to natural hair products to foundations, there is a plethora of black business that offering quality items. We don't always know where to spend our black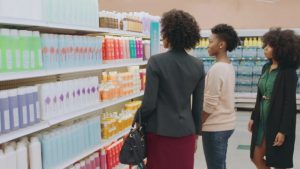 dollar, but with this list, you can have a good idea. Focusing on natural hair care and make up brands, here are a few to check out.
Vera Moore Cosmetics
As a soap actress, Vera Moore saw a significant neglect of makeup and skin care options for black women. It was constantly a challenge to find foundation that matched her skin tone. So what did she do? Moore formed Vera Moore Cosmetics and Skincare. A family business that provides an array of options for women all over the world, it is one of a kind with great products.
Jane Carter
This brand is one of the lines by which naturals swear. Jane Carter started her business in 1992, first as a hairstylist and then as the owner of her own hair care line, Jane Carter Solutions. Her inspiration was due to an allergic reaction she had to products with chemicals. Her goal was to create a chemical free hair care product for women of color. The rest is history.
Shea Moisture
Another of the go-to hair brands for naturals, Shea Moisture has positioned itself as a leading brand in the black community. Sofi Tucker founded the company in 1912 as an eco-friendly and organic way to take care of your hair. Today, with skin, body, make up and hair products under its belt, Shea Moisture is a global brand with results that work.
Miss Jessie's
The sister duo Miko and TiTi Branch started their hair care line in 2004. Since then, it has morphed into one of the top natural hair care brands in the world. Taking inspiration from their grandmother, Miss Jessie, their goals was to create products for all clients' hair types. You can find their items in Target and Walgreens as well as other retails stores.
Curl Box
If you like trying different products before you commit your locks to them, then Curl Box is a way to go. The brand is a pioneer in the monthly-boxed delivery service. How cool is it to get a bunch of samples, every month for a fixed price, with products formulated for naturals? Myleik Teele is the founder and bless the day this woman put her passion into action.
For a lot of individuals, supporting black people who strive to uplift the community is paramount. Knowing who is behind the products we buy helps determine where we put our hard earned cash. Who better to make products for POC than those who walk the walk everyday?
Staff Writer; Rasheda Abdullah