A Domestic Violence Story.
(ThySistas.com) "Your face is fractured in four places but nothing is broken". I laid there and had a sigh of relief that I didn't have to go under the knife. I was always scared of hospitals. The same fear I have now of you. I couldn't look at myself, but the sadness and grimace on my mother's face was enough to tell me what my face looked like.
Your friend dropped you off at my apartment so we could talk. I was done talking before the conversation began. I sat back and listened to you rant and rave about what I had and why I should be lucky to be in a relationship with you. I sat on my black futon couch. While you stood over me yelling and punching your hands, with each punch popping louder. I winch with every pop. I get tired of you standing over my head in this way. So I stand up for myself and tell you to just leave and take all of your things with you. I begin to toss your shoes and clothes lying around my apartment towards the door.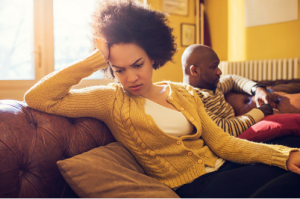 "Just leave, since you so upset and unsatisfied here JUST LEA…(explosion)". Your fist made contact with the right side of my face. (But why was I surprised because all of our physical alterations increasingly get worse). It sounded like an explosion in my head. I remember waking up in the corner by the door of my apartment. I watched you yell, pace back and forth. I got up, dazed and couldn't believe you hit me in the face. I try to gain my footing and approach you with the bit of strength I thought I had left to defend myself and you bite me on my pinky. You bite me. I go outside to use the neighbor's phone. As you had my car keys and cell phone.
I am bleeding from multiple places and screaming in pain as I beg my female neighbor to use her phone. She just stood there, looked at me with disgust and ignored me. She ignores me. Finally you toss my keys and phone on the ground outside.
"Come straight home", my mother said when I called barely able to speak through tears. This was the calmest I had ever seen my mother. She took me straight to the police station to file a police report then to the emergency room. I stayed at my mother's house for a week healing.
Finally, I go back to battle ground, my apartment door was ajar and my flat screen television was gone. You robbed me of my womanhood, strength and respect. I eventually got the television back but I couldn't replace my fearlessness and the life in my eyes. You changed me.
You changed me and made me that much stronger and I now understand my self-worth. I have been restored. I hate that it took a fractured face to understand who I was, but I thank you. In that moment I felt like I lost everything but I gained my life's new beginning. I am emotionally stronger because of you. I would never again have to worry about being and staying in an emotionally and physically abusive relationship again. I will not accept it. I escaped and I am a survivor.
Writer's Note: October is Domestic Awareness Month. On average, nearly 20 people per minute are physically abused by an intimate partner in the United States. 1 in 3 women have been victims of physical violence by an intimate partner within their lifetime. If you or someone you know is a victim of DV please call 1-800-799-SAFE (7233)
Staff Writer; Amber Ogden
One may also view more of her work over at; AmberOgden.com.
Also connect via Instagram; 1amberogden and Twitter; MsAmberOgden.