The Renewable Energy Revolution: Does It Offer A Good Business Case?
(ThySistas.com) There's no denying that we are in the midst of a renewable energy revolution. More of us are turning to alternative power sources for our homes, businesses, and cars. To some people, it's a revolution that seems to have happened seemingly overnight. But, it's something that has been in development for decades.
It's only in the 21st century that alternative energy has become a hot topic among the masses. There is a strong desire to move away from so-called fossil fuels. Today, it's possible to power one's property using solar energy and cut off links to the "grid."
The continued growth of the alternative energy industry also means one thing. I am, of course, talking about plenty of prospective business opportunities. But, is there a strong case for getting involved in this niche? Or should entrepreneurs shy away from investments in such an industry?
Despite the naysayers of renewable energy, the revolution will continue. There is no chance of it stalling, even in areas of the world with political issues and war. So, while the world wants to go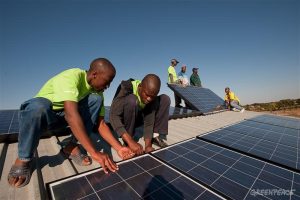 greener, can the business world make money from renewable energy? In short, the answer is yes. Here's why:
The power of change
One side-effect of the growing interest in renewable energy is the cost of fossil fuels. That is, they are going up as the price of renewable energy goes down!
Look at historical prices for coal and oil, and you'll notice they have gone up in recent years. You might not think it, but the world could, in theory, run entirely on renewable energy. There are no physical barriers – except for politics and societal ones, of course.
There's money to be made in emerging markets
Some countries are keen to build their renewable energy infrastructure. Especially in the face of rising fossil fuel prices.
As a result, those countries are hoping to invite domestic and foreign investors. In return, there is the promise of lucrative contracts and profits. One such example is Turkey's Renewable Energy Conference. Events like that get advertised to showcase the potential growth available.
Corporate responsibility
These days when running a business you have to take on an element of corporate responsibility. Consumers consider a firm's ethical activities when deciding to buy from them. As a result, many big name brands have invested in the renewable energy industry.
For example, Google invested over a billion dollars in wind farms. And Apple is powering its data centers with 100% renewable energy. As you can appreciate, such investments are good for the environment. They are also good for raising a company's ethical profile with consumers.
Just how big is renewable energy these days?
It might shock you to learn that 45 countries get 60% or more of their energy from renewable sources. And 13 countries use 95% or more! Those figures are set to change each year and for the better.
As the world embraces the idea of using renewable energy, more investment will be needed. Because it's a growing industry, there is plenty of growth potential for investors. Especially those that do so early on in this energy revolution.
So, to answer the original question of this blog post: Yes! Renewable energy DOES offer a good business case.
Staff Writer; Karen Weatherspoon