Not a Sunbathing Fan? These Beach Activities Are Much More Fun.
(ThySistas.com) Spending time on the beach has to be one of the best things to do in the summer. Whether you're by the sea or a lake, you can take advantage of the sunshine. Not everyone wants to sunbathe all day, though. If you want to avoid feeling bored, there are plenty of things you can do instead. Don't just lie around for hours when you could be getting active and making the most of the weather and environment. Keep yourself and your friends entertained with these ideas for fun at the beach, both in and out of the water.
Play on Top of the Water
If you want to get in the water, you don't necessarily have to get wet. There are lots of ways to enjoy it without going under. Although, you might get splashed a little bit. Firstly, there are boats of all shapes and sizes. You could go out on a yacht, in a motorboat, or in a kayak or canoe. It depends on how much effort you want to put into getting about, how far you want to go, and how much you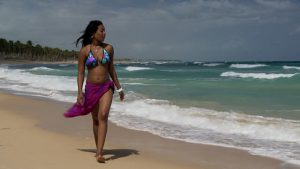 want to spend. You could also try a stand up paddle board, which are great in waves but also fun on calm, flat water.
See an Underwater World
You might be more fascinated by what's under the water than what's on top. For a lot of people, exploring underwater will mean snorkeling. You don't need any special training or expensive equipment to do it. However, if you wanted to do some proper diving, you could take a scuba diving course. For something in between, there are water sports accessories that will allow you to be pulled along underwater behind a boat. You'll get to go fast and see some interesting things without needing to dive.
Set Up a Game on the Beach
The beach makes a lot of team sports more fun. The sand makes it harder to run, but it's also softer to land on. Some of the things you could play include beach volleyball, soccer, and frisbee. It shouldn't take much to set up a game, especially if you've remembered to bring any equipment you need. If you haven't, you might be able to rent sports equipment at the beach. Just remember to be courteous of anyone else at the beach and don't go running into them!
Take a Gentle Stroll
If everything above is a bit too much activity for you, lounging on the sand isn't your only other option. Going for a walk is a great way to enjoy the scenery and get active at the same time. Walk along the sand to get more of a workout or choose a solid path if you want it to be more gentle. Many beaches are also close to mountains, forests or just interesting towns. So there's no need to stick too close to the beach if you want to explore further.
You shouldn't run out of things to do at the beach, as long as you use your imagination. And if it's too hot to do anything, there's always the beach bar.
Staff Writer; Danielle Potter