Pettiness is Childish. Period.
(ThySistas.com) Every time we look up there seems to be a new trend, or word that seems to carry no importance. Lately, the petty fever has been going around. Once upon a time it was considered negative to be called petty, and no one willingly called themselves such. Ladies, what are we doing? Why have we decided it's okay, funny and necessary to be a bit "petty"? How can we expect to be taken serious when we belittle ourselves to the level of childish catty behavior? These are plausible questions as we see more Sistahs living vicariously through social media.
Many of us speak about Queendom as though it's our birth right. If that's how one feels that's okay, but petty behavior is not regal. It's hypocrisy to sit online, and speak on the ill behavior of others while openly proclaiming to be petty. This is us sinking to new lows. W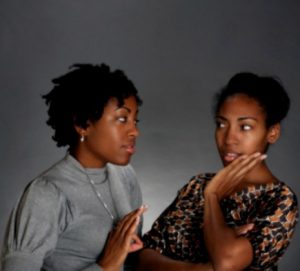 e can not expect to be handled with importance, significance and class while carrying ourselves like petulant little girls. The petty movement is definitely not in line with behavior, and actions that rebuilds community.
The devastating reality is grown women are allowing their demeanor and behavior to be depicted by social media. While proclaiming "Black Girls Rock" and "Black Girl Magic" the acceptance of negative behavior is still acceptable to us. The bottom line is we must admit that some of us suffer from an addiction to drama. The depth of why some don't mind petty stems from our need to gossip, and keep up mess. Petty behavior is childish, and there is no getting around it. It stunts our growth as women, and continues a perpetual cycle of negative energy in our life. One can't say " I'm not about drama and foolishness. I keep haters in check" while admitting to being a petty female. We are better than this. The sad part is the women we would look at as educated, and respectable are just as guilty as the one that look to need help with character regarding pettiness.
We must be bold enough to say this isn't okay. We are the mothers of community, and petty behavior has no place with us. It is not wise to allow the society, and the lost to define our womanly character. It is very difficult to explain to the daughters of our community why strength of character is important when we allow things such as pettiness to stain our integrity. It is also a challenge to command regal treatment from our men when petty is what we do. Since our words carry weight proclaiming pettiness causes such to manifest in our universe. It would be wise for us to realize petty is never positive stance to take. Period.
By definition petty means of little important and trivial. With that being said, let it be known that it is also related to words such as: trifling, minor, small, negligible and petulant. Sistahs none of the mentioned terms are positive or uplifting. There is no reason to allow ourselves to succumb to such nonsense. It is important that we go back to thinking for ourselves, and defining our character verse allowing popular trends and social media to direct our path.
Staff Writer; Christian Starr
May connect with this sister over at Facebook; https://www.facebook.com/christian.pierre.9809 and also Twitter; http://twitter.com/MrzZeta.