Anti-Pop Superstar: How Singer Rihanna Became A Legacy Act At 28.
(ThySistas.com) Rihanna was once the world's preeminent pop star. And yes, I use past tense.
Despite having her hit "Work" firmly ensconced at number one for the past two months, a stat that ties her with the Beatles as second only to Mariah Carey for most weeks atop the Billboard Hot 100 chart, Rihanna has recently transcended pop stardom.
The song's success is universal and undeniable. When I told my six-year-old son I was going to a Rihanna concert, the first of the Anti World Tour's two-night stand at Toronto's Air Canada Centre, he asked "Is she going to sing 'Work Work Work Work Work?!?'" (He also really enjoys shouting "pay me what you owe me!")
The sold-out Toronto crowd reacted with even more excitement than a six-year-old to the Caribbean-influenced tune's opening synth pulse before they awkwardly attempted to sing the patois lyrics en masse.
Thing about "Work" is that the song is a grower, and one which was only afforded the opportunity to grow due to Singer Rihanna's track record. It's no textbook pop tune, but it's the closest that her new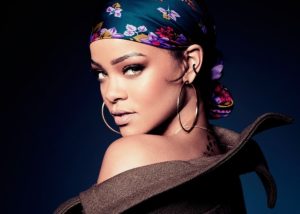 album "Anti" even approaches in its mission to establish the Barbados-born singer as a legacy act rather than a pop star at the tender age of 28.
And her Anti Tour demonstrates just how successful a mission it was, with almost all the highlights coming courtesy of two-month-old album's timeless tracks despite the pop smashes that permeate her seven previous ones.
Seeing an artist with this many hits always means you'll miss a favourite, but the one obvious omission in her live show — aside from Drake failing to show up for their collabs "Work" and "Take Care," despite the fact that I totally saw him the night before at the Raptors game — was the new album track "Higher," a two-minute ode to late-night, whisky-soaked hook-ups that features the most powerful and least restrained vocal of Rihanna's shockingly busy career.
Rihanna released annual albums that made her one of our era's definitive pop stars. She was almost never not on the radio.
For seven years, from 2005 to 2012, Rihanna released annual albums that made her one of our era's definitive pop stars. She was almost never not on the radio.
And this is reflected live, as she often had to assemble medleys or stick to snippets just to cram them all in, mashing together a dramatically slowed-down but still euphoric "We Found Love" with a head nod into "How Deep Is Your Love" before kicking into the big-room beats of "Where Have You Been." Or stringing together her hooks from T.I.'s "Live Your Life," Kanye's "All of the Lights" and Jay Z's "Run This Town."
Even when she finally took a career breather — there were a little more than three years between the "Unapologetic" and "Anti" albums — she still kept dropping one-offs, spitting out thinkpiece-inducing bangers like "Bitch Betta Have My Money" and casual collabs like "FourFiveSeconds" with Kanye and some dude named Paul McCartney. It was hard to to tell she was even on a break.
Until she returned with an album that was not like the others.
This tour is not like the others, either. A simple white stage with only few bells and whistles, some dancers initially dressed in sand-coloured wrappings like Rey from The Force Awakens and an unobtrusive band also dressed to blend in.
Rihanna made a few requisite costume changes, but they were relatively tame, too, largely covering her lithe frame and inspiring descriptions like Obi-Wan meets Liza Minelli.
Finish story here;
http://www.huffingtonpost.ca/joshua-ostroff/rihanna-anti-tour_b_9693902.html