Helping Your Kids Find Their Path After High School.
(ThySistas.com) The transition from high school into "adult" life is hard for anyone. Parents want to help their children through it, even if they're not minors anymore. Although your kids have to start doing things for themselves, that doesn't mean you can't give them a helping hand. Some students will choose to start applying for college, while others might have other plans. Whatever their choice, you can make sure you support them and give them any assistance they ask for. Keep reading to find out how you can help them find the right path after graduation.
Exploring Options
College isn't the only post-high school option for students. While it's the right choice for some, many will feel they aren't suited to it. Some students will also decide that they can't or won't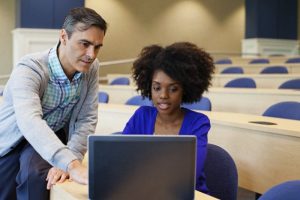 take on the burden of paying for it. Of course, if your teenager does decide on college, there are options within that choice. They might prefer a technical school to something more academic. Many would rather do a shorter associate's degree than a four-year bachelor's degree. But for those that don't want to attend college, you should encourage them to explore their other options. They might decide to work, perhaps to save toward college, or even to take some time off.
Preparing for College
The process of finding and applying for colleges can be gruelling for any teenager. And their stress can affect your life too. You can do what you can to help them, although you have to remember that it's their application. If you want to provide assistance, you can try doing it through a third party. Hiring an Ivy League counselor will make sure your teen understands how to get into top colleges. Although they might give some of the same advice as you, your teenager might trust them more. It's not because they don't trust you at all, but an outside source is often better accepted.
Finding a Job
Some teenagers might decide to enter the workforce straight after graduation. It might be a temporary choice to save for college or something else. However, plenty of high school graduates have no current desires to go to college. If they want to find work, they might start by looking for an apprenticeship to learn a trade. Internships can also be good ways of gaining experience before finding full-time employment. They will have an easier time finding a job if they have worked during school. If you want to offer your support, you can give them job hunting tips. However, make sure that the advice you're offering isn't out of date.
Taking Time Out
Another option is to take a year out of either school or work. This can be an excellent opportunity to gain some real-world experience before going to college. However, there is the question of funding it! Some teens might decide to work while doing something else, such as traveling or volunteering. Spending some time abroad can be an excellent way of broadening horizons. They can go to college more prepared for adulthood.
College isn't the only option for your children after high school. Help them find their way by lending them support as they make a decision.
Staff Writer; Sherry Johnson