Inspiration Can Empower Greatness.
(ThySistas.com) Inspiration has no age limit or minimum, as we are reminded by a 106-year-old woman who visited President Obama last week, as well as a young boy who touched the president's hair to see if it was like his. Both have had an experience that will last a life time. The 106-year-old woman saw the fulfillment of struggle, sacrifice and a dream of equality in this country. "That was the joy of my whole entire life" stated Virginia McLaren; whereas meeting the President may become a reminder that anything is possible in the life of the young boy. One has been fulfilled while another is just getting started. Regardless of which end of life we are on we can still be empowered by life changing events.
Because of the tireless work and sacrifices of our fearless ancestors, current and future generations can look forward to opportunities never widely available to minorities before. In the spirit of their sacrifice we must strive to make the future in debt to ourselves. We must not slowdown in our march towards equality, and self-awareness. This road has never been easy; we must take the lessons, and wisdom, left behind by the ancestors to assist us in overcoming the great challenges of our time. The inspiration that was their life can empower us to insurmountable greatness. It is also amazing, as is the case with President Obama, when our inspiration is alive and active in our lifetime. Every now and then life allows us the blessing of being able to witness the greatness that will change how we see ourselves… and what we feel we can achieve.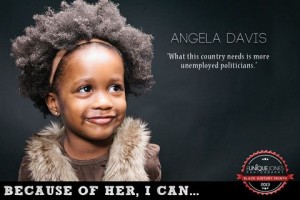 Our self-image is directly affected by how important we feel we are in life. Those that came before us may not have known our name, but they knew they were paying for the next generation. We are currently paving the way for those that will come after us. It is important for us to remain inspired, and empowered, so that our will stays fueled up for the challenges we will face on the journey to reaching our goals. Some that came before us knew they would not see the fullness of everything they had worked for, but their children would inherit the fruit of their hard work. This is the case with us also… as we strive towards our destiny we must remember we may never see the complete fullness of our life's work. Yet, that fullness is a rich inheritance for our children and grandchildren. They will be the carriers of our legacy as we are the carries of such for our ancestors.
Dressing up, dreaming up…
It starts off as imagination, and then turns into a plan—inspired by some brave men and women from the past. Those who dared to push forward, giving birth to new and great achievements, planted the seeds of inspiration which continues to motivate new generations of children, aspiring them to continue to believe in themselves, pursue their dreams, and 'pay it forward' so that others, too, may succeed. As a new generation is on the horizon inspiration is in their eyes, and it will empower their greatness. We must simply remember to remind them of those that came before them, nurture their dreams and be living examples as to how to achieve the dream. We have history that is rich in resilience, creativity, tenacity and faith. Because of our history there is nothing we can't achieve. We stand on the shoulders of giants, and "Because of them, WE CAN!"
#willyoutakethepledge  (—————–
Staff Writer; Christian Starr