A Journey to Natural.
(ThySistas.com) Over the last few years I've been hearing about this term called "creamy crack". I was told it was being addicted to getting g a relaxed without fail every few weeks or months. Addicted is a rather harsh word. When I was younger I considered going natural, but I preferred to do it later in my adulthood…never considered myself addicted to anything other than good hair care.
My hair was long, growing and regularly maintained. Yes, I looked great with my relaxer, and it didn't make me less black.
Sistahs let me just say your hair doesn't determine what's in your soul. Do what works for you, and love yourself without condemnation. Relaxers don't guarantee you are of a eurocentric mind, and natural hair doesn't guarantee you are pro black and about movement.
When we decide to transition from relaxed hair to natural, verses undergoing the big chop, we have an interesting journey ahead. I am 10months post relaxer, and I am learning patience and how to better love myself through this journey. Ladies I won't lie this has not been easy; I've had to learn how to care for my hair as it is in transit. Being gentle with my own hair has become mandatory if I didn't want to see breakage that would break my esteem. Below I'd like to share a few things I have learned thus far on my  transition.
1. Transitioning takes time so have patience and love your hair in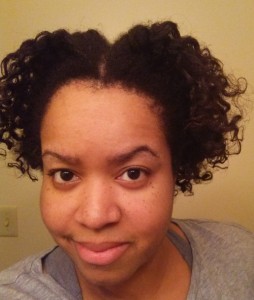 the state its in right now. Its great to have hair goal, but love your hair right now.
2. Nutrition and water intake effects the growth of our hair. If we love and care for our body our hair will prosper.
3. Focus more on finding out the porosity than the texture. Porosity knowledge will assist with product selection.
4. When the transition begins creating better hair care habits is more useful then product experimentation.
5. As your natural hair grows out don't forget to trim your ends in order to maintain your ends until you are ready to cut off all the relaxed hair.
6. When using the L.O.C (liquid, oil, conditioner) I've found that it works better for me when I use liquid, condition then oil. My sister gave me that helpful tip. 🙂
7. Allow your porosity type to help choose your products. I have low porosity hair meaning once moisture is in its really in, but the hair shaft doesn't open easily so its not as easy to get the moisture in. I can't use a lot of heavy oils and butters because my hair won't absorb them…the hair will simply have build up. So far I like coconut and almond oil for my hair. I may be trying grape seed oil in a few months.
8. Find a few style you like that will help blend your textures. Right now my go to styles involve flat twists, perm rod sets and buns. I try not to manipulate the hair to much since the line of demarcation between the relaxed and natural hair is sensitive.
9. Lastly, again have patience, be gentle and love your hair where its at right now.
I will keep you updated on my journey to natural. When I started I had an idea of when I wanted to big chop…now I'll do so whenever I feel moved, but it will be awhile. Love you, and your hair. Do what works best for you be it natural or relaxed. Never let anyone put you in a box whereby what's on your head determines what in your head. Loving you truly, and being comfortable in your own skin is high power.
Staff Writer; Christian Starr
May connect with this sister over at Facebook; https://www.facebook.com/christian.pierre.9809 and also Twitter; http://twitter.com/MrzZeta.