Let me give you my take on this subject. I believe being Super Mom means doing what's best for your kids, but not forgetting about yourself. Without taking time for yourself, there's no way you can be Super Mom. And, doing the best for your kids does not mean doing everything for them either! Teaching them to do things for themselves is a lesson they will thank you for (maybe not right now, but they will eventually).
Today, I'd like to share with you 5 tips on how to reach Super Mom status:
#1 Make sure to include yourself in the equation. Often times, we forget that we are part of the picture. We try to be everything to everyone, only we forget about ourselves. Take time out each day, or at the very minimum every week, to do something for yourself. It can be something as simple as a homemade facial or manicure. Or, curling up with a nice cup of tea and a good book or movie.
#2 Get a hold of your schedule. While this can be a dreaded topic, it is a must if you're going to accomplish all that needs to be done. Get yourself a family wall calendar, a day planner or use your smartphone to get your schedule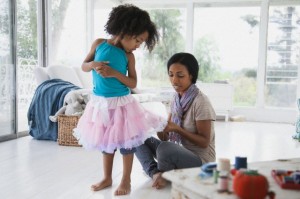 organized. Events and items to enter on your calendar are – appointments and meetings (dentist, doctor, pets' checkups), kids' activities (sports games and practices, dance classes and rehearsals, school events), your personal activities (yoga or fitness class), holidays and school PD days. Don't forget as well to set aside some time in your calendar for things like movie night with the kids, night out with friends, meal planning and time for yourself. You can even choose to schedule tasks, like laundry and house cleaning chores.
#3 Keep your finances in check. Managing your finances is an important part of creating a successful household. Use a system that works for you, like an envelope money management system, for instance. Money can be a stressful issue, but when you know where you stand financially, it relieves a lot of stress and makes other areas in your life much more enjoyable.
#4 Take time to plan your meals for the week. You can reduce your stress when you know what you're going to be eating at each meal. It makes grocery shopping easier and saves you money.
#5 Get moving. Take a few minutes each day to get your body moving. We feel so much better and energized afterwards. You don't need to go for a 10 kilometer run. Something as simple as 20 minutes of yoga, a brisk lunch hour walk or getting outside and playing with the kids is enough to give that extra boost of energy that will carry you through your day.
Written By Marie-France Myers