Embrace Your Entrepreneurial Spirit.
(ThySistas.com) As someone who has been working since I was sixteen, I knew early that I was not the type of girl who would ever conform to a 9-5 job. I always felt deep down inside of me there was an entrepreneurial spirit waiting to come out.  Naturally, I am always intrigued when other people tell me they are starting their own business.  Recently while I was talking to my brother's girlfriend, Erica Mensah, I discovered she had started her own catering business. Right away I wanted to write about her.
I don't have to tell you, being the inquisitive type I was all up in her 'business.'  The reality is, Erica is not alone.  According to a report from Projecteve titled, 19 Best Paying Jobs for Women in 2013, it stated, "It is a fact that these days, women are starting new firms at twice the rate of all other businesses and according to a research it is projected that women labor force will increase to 78 million by the year 2018,
Erica is a college graduate who received a B.S. in Health science from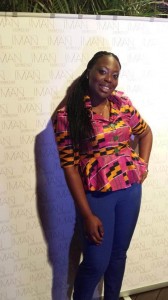 Lincoln University, and a M.S. in Exercise Science and Rehabilitation from Brooklyn College. During our interview Erica told me she always had a passion for cooking and always wanted to own something food related since High school.  So, last year when she was laid-off from her exercise physiology position she decided it was the right time to venture into what she was really passionate about: cooking.  She explained, "The first thing I did was find a name that best represented me, what food meant to me, and how I wanted my food to be represented." She said,  "I was scared. Scared of putting what I love on a plate for people to judge. I had to ask myself, can I do this?"  Ultimately she said the thing that really motivated her to continue on her journey was the amount of people that was rooting for her, and, "Saw my potential before I did."  She said knowing that, made her feel empowered, and reassured her she can do anything she set out to do.  
Finally, Erica said she used her earnings to fund her dream, and social media like, Instagram, Twitter and Facebook to spread the word and to increase her clientele list.  But as a novice, she said if she could give any advice to others it would be, "Save ahead of time because there are lots of expenses seen and unforseen."  Also, networking is key, and equally important is research, research, and more research.  So far, Erica said she is more confident now, that she can succeed, and feel more comfortable with the aspects of what she is doing.
I learned in the past if someone wanted to start their own business, he or she would  jump right in, hit up friends and family for start-up funds, and hope for the best.  Some experts write the first step to starting a business is to attend a seminar that covers the basics of starting a business, including Business Registration, Licenses, and Legal Structures (LLC, S Corp., Partnership, etc.).  I also read the key is to be well informed.  Further,  if you have no start up funds there are a bevy of online tools that can help with fund raising, and one such popular tool is Crowd-funding.
The second thing that experts say is, again I cannot say this enough, do your research, and research some more.  They insist that information is golden, and one of the places you can get valuable startup informations is at  sba.gov.  The website offers an abundance of information, from how to write a business plan, knowing your customer and the future of your business, to a list of organizations that specialize in helping women business owners, and much more.
In the end, it was inspirational to interview my girl Erica who taught me a lesson in following your dreams even if you are scared. I especially loved when she said, "Do something you are passionate about because the road isn't always going to be smooth. You have to do something you love to persevere. Your gift is the only gift there is, so share it."  And make sure, "You love love what you do."
For additional informations and resources these links are worth reading:
http://www.projecteve.com/small-business-resources-for-women/

http://www.projecteve.com/22-essential-websites-for-women/

http://www.projecteve.com/funding-opportunities-available-for-women-business-owners/

http://www.projecteve.com/the-top-cities-for-female-entrepreneurs/
Staff Writer; Kency Desmangles
One can also connect with this sister via Facebook;
K. Desmangles
.