I Am No Longer "That Old Lady Still at the Clubs".
(ThySistas.com) "The dj really said "Where my 2000s babies at" and the crowd went wild. That's when I knew it was time for me to go home." – @BabyySims (Twitter)
Chile, I've been that old woman in the crowd at the clubs, more than I can count. So I've decided to get my party on more during the sunlight hours and hang out at more day parties, where the crowd is more than likely, my peers who bed times are 9pm like mine. For me, this is not an, every weekend type of thing. I believe that anything you do in excess, is dangerous. So, I usually go out monthly to just get some air outside my home and work office, to go somewhere, where the music is good and the adult beverages are flowing and I can get my dance on.
I noticed that I couldn't hang out like I used to within the last year. I can recall nights where I can party all night and go to work the next day like everything was all good. NOT.NO.MORE! It takes me about 2-3 business days to recover from a night out, partying. My legs be sore the next couple of days too, cause my crazy self, still out here trying to drop it like it's hot to Juvenile's song, Back That Ass Up. What I really need to do from now on, is park my ass sitting down more often…and be cute at day parties.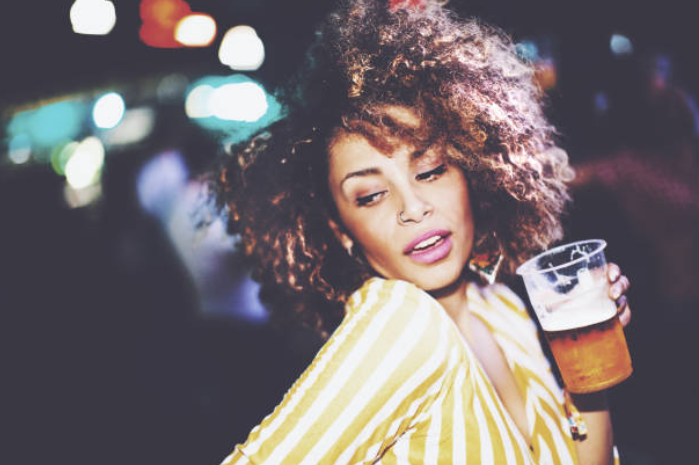 Recently during one of my homesick rants on Instagram, I was stating how my peers in Chicago be kicking it at day parties now but when I lived there, to me, there was no such a thing happening for people like me and I was forced to stay at home on the weekends. Plus, I think I partied too much in my 20's that I'm still recuperating from those wild nights. Who am I kidding? I would've stayed at home anyway because I turned into a true home body. Hello late 30's!!!
To my understanding, you can party at day parties from the hours of 1pm until about 9pm which means in English: YOU WILL GET 8 HOURS OF SLEEP AND SOBER UP BEFORE YOU CLOCK IN TOMORROW. As opposed to partying all night and the struggle be so real the next morning, stumbling into work after taking two Tylenols and rocking sunglasses and there isn't a lick of sun, shining outside. Save yourself the embarrassment sis, and go to more day parties.
Also, I've noticed that my palettes for adult beverages have changed the older I get. I used to drink hard liquors every time I went out to a club. Now I prefer wine, beer or something light like mimosa's over that mixed drink or double shot of Jack Daniels when I'm partying during the day time. With this change, I have less hangovers or feeling sickly the next morning. Another thing that I noticed as I age out of partying all night are the venues where day parties are held are much more chic and sophisticated than the raunchy night clubs. Black men and women dress casual but with a taste of class. Not like the 21 years old crowd, showing off everything they momma gave them to show.
I was that woman still trying to hang out late in the clubs, looking at all of the younger women turning up, until I finally accepted the fact that I'm getting older and the young crowds will have you getting into all kinds of craziness that you simply don't have the time nor health benefits you need to recover the next day. If this is your current night life routine, consider going to more day parties.
Have you ever attended day parties? What was your experience like? Share your responses in the comments.
Staff Writer; Felicia T. Simpson
One may also connect with this sister online over at; FTSimpson.com.