Choosing the Perfect Wig to Complement Your Style and Beauty.
(ThySistas.com) Buying a wig is a significant investment that's well worth it. Not only can you achieve hairstyles that your natural hair might not be able to, but it protects your natural hair from damage. As a result, you get to rock the style you want without exposing your precious locks to heat and chemicals.
Still, it can be hard to choose the right wig. Here are some helpful tips for finding the perfect wig to fit your style and beauty.
Consider Your Face Shape
The most important consideration when buying a wig that suits your style is your face shape. Choosing the right style for your face shape will enhance your natural beauty, rather than detracting from it.
Here are the main face shapes and the styles that go best with each:
Rectangle – these faces tend to be longer with squared edges. Hairstyles that soften those edges, such as medium length wigs with layers and texture, frame the face nicely.

Round – round faces are often equal in width and length. Choose a style that adds definition, such as edgy pixie cuts, long layers, and side-swept bangs.

Oval – ovals are well-balanced and can work with any hairstyle. 

Diamond – these faces have narrow chins and foreheads with prominent cheekbones. They look best with soft layers, asymmetry, and deep side parts.

Heart – hearts have a wider forehead and narrow chin. Side-swept bangs and deep side parts help balance the shape.
You may not fit one shape, but having an idea of your shape can help you choose the right wig to fit your personal style. 
What's Your Time Threshold?
Some wigs require more time and dedication than others. Your time limitations will influence things like adhering and styling your wig every day. Check out this how to secure a wig blog post for more information.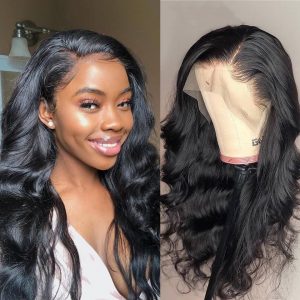 Your wig will also require care and maintenance. Both the materials used to make your wig and your style preferences will impact that timeline. Generally speaking, human hair wigs require a lot more attention than synthetic wigs. Synthetic wigs hold one style and withstand the elements, whereas natural wigs need to be styled and cleaned more often.
How Much Versatility Do You Need?
As stated before, synthetic wigs are designed with one style in mind. If that suits your lifestyle and personal preferences, then synthetic is a great option. However, if you want versatility, a human hair wig is the way to go.
Another consideration when it comes to style versatility is the type of cap. If you like to put your hair in high ponytails or change the part, it's worth investing in a full lace or 360 lace cap. While front lace caps are great starter wigs and easy to use, your style options are limited if you want it to look natural.
Color and Skin Tone
When choosing a wig, you'll also want to look for something that works with your skin tone. That doesn't mean that someone with dark skin shouldn't go for a lighter style but pertains to warm and cool skin undertones. 
Cool skin tones tend to have a blue or pink undertone, regardless of skin color. Warm skin tones, on the other hand, tend to have a more yellow undertone. Choose a color that has similar undertones. For example, a golden blonde wig looks great with warmed tone skin while ice blonde looks better with cool.
What Do You Like?
When it comes down to it, the biggest impact on your decision should be your personal preferences. If the style you love doesn't match your face shape, but you feel confident with it, that's what matters. The greatest compliment to your personal style and beauty is always going to be what makes you feel most confident and gorgeous.
Use a wig as a tool to enhance your natural beauty. Choose something that makes you feel amazing and wear it proudly. 
Staff Writer; Sherry Hall