4 Side Hustles You Can Do from Home.
(ThySistas.com) Thanks to the advancement of technology, more and more companies and organizations are investing in staffing more remote positions.  This obviously cuts down operational costs and now, we can run businesses straight from our mobile phones.  Here are four ways that you can earn some extra cash while relaxing in your own home:
Complete surveys.  Companies are always looking for feedback to enhance their products or services.  You can sit back and complete survey's that pay up to $250 usually.
Social media marketer.  If you love being on social media, understand the current algorithm, you can make this your side hustle and get paid to create content for a company or individual.  Let's say an up and coming artist needs to promote himself on social media but he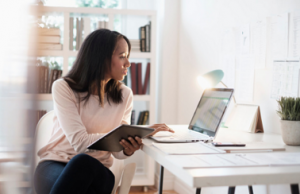 doesn't have the time to do it himself because he's the talent.  His record label can hire you to run his social media accounts.  This will help him stay relevant and in the loop with his fans.
Freelance writer.  This the holy grail for writers to do as a side hustle.  You can find various paid opportunities to write content for other business owners and/or individuals.  Freelance writers could write copy for your business blog, newspaper article, brochures and other promotional materials, resumes and anything else.
Virtual assistant.  If you love sending and responding to electronic communications aka emails, or dropping packages off at the post office to be mailed or setting up conference calls and meetings, you my friend can get your side hustle on by being a virtual assistant.  This is the latest side hustle out of those listed above.  Again, companies have learned that they don't have to pay a full-time salary, benefits, etc., for someone to sit at a desk and answer their calls and respond to emails.  They can pay a fee for someone to do that scope of work at home for them instead.
Virtual assistants are great for those small business owners who still work a 9-5.  The business owner can hire a virtual assistant to handle the daily operations while they are at work for their employer.
No matter what your passion is, you can make a side hustle from it and with the money you earn from it, you can do as you please.  You can take vacations more, pay down your debt, put it all in savings or whatever you chose to do with it.  There is no stability in having only one stream of income.  That is also not how you will ever build wealth.  Get your side hustle on from home.
Staff Writer; Felicia T. Simpson
One may also connect with this sister online over at; FTSimpson.com.