"Thirst Traps: empowering or annoying?"
(ThySistas.com) That was the title I read for an article in the magazine Cosmopolitan magazine.  The writer of this article, Hannah Chambers, was referencing recent social media posts and captions of our favorite nude goddess in photos, Kim Kardashian West (KKW) and the debate around those images and captions of course.
You are faced with an image of KKW laying on what appears to be a beach lounge chair, not showing her full face but enough to let readers know it's her most definitely, in a copper colored bikini.  That's a typical KKW image or any woman being thirsty on the 'gram for that matter these days.  The image is facing downward so that you can get the full view of her frontal curves.
Her caption for this image read: "If you're not into what I'm posting, don't look." –KKW
Now, because this is KKW and her brand was birthed from scandal, failed relationship repeatedly and so much other glamorized dramas and traumas, that for most of us, this type of content from Kim K or KKW is NOT at all surprising.  The problem is, of course there's no "Warning Graphic Images" or any other signs that lets us have the option of if we care to see the images or not.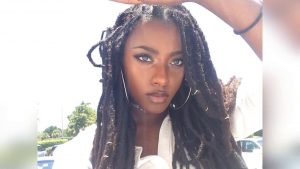 But think about the many women who are not at the status of KKW and model this same content creation in their timelines where their employers are their friends, or their children's friends can have access to their page because it's public of course or family members who have to constantly see inappropriate images of your body on the worldwide internet.  You can block the person or unfollow them easily said than done.  We find ourselves "Keeping Up with the Kardashians" even when aren't genuinely trying to.
You can scroll through your Instagram stories for example, see one of your follower's beautiful children and then you swipe left, KKW has on a sheer ensemble with nothing on under basically.  Which leads to her next image and caption that debaters want to know are thirst traps empowering or annoying?
"I'd never been in my underwear on IG before, but I thought, insert F bomb it, I look good." – KKW
This is pure thirst trap at its finest and it's annoying.  I know some women who "work out" just to show their body in tight fitting garments for likes and comments.  I know other women who will on purpose go into a fitting room and try on bras or short shorts just to again, get likes and comments under their posts.  These same women, have followers by the 10K status of "You made it" also.  KKW has always done stuff to gain attention and some of us at some point, has helped her career evolve because we keep keeping up with her and her family members.
If you like people sliding in your DM's only because you're showing the world all or parts of your body to gain attention, be very careful because some attention is not worth the stress and heartache it causes.  Regardless to how many likes and follows you get, thirst traps are not empowering, they are very annoying!
Staff Writer; Felicia T. Simpson
One may also connect with this sister online over at; FTSimpson.com.