Springing into Your New Relationship.
(ThySistas.com) It's mating time!!!!  Just as you plant seeds in the ground for flowers to eventually bloom, it's time to plant seeds into new relationships.  Hopefully by now, you've done the necessary work to get over your ex and you're ready to get back into the dating game.  Here's some tips to get you ready to begin springing into your new relationship.
Don't rush into anything:  Take your time in this season.  It's well known that a lot of people begin looking for love during the springtime.  So don't be so quick to find Mr. or Mrs. Right.  You don't want to be one of those hit or miss "met and married in 30 days" couples.
Date several people:  Yes, you read that right, and have fun dating them.  We've been conditioned to date only one person at a time.  Throw those old thoughts away and date several people at one time.  This will help you not become dependent on just one person.  You will enjoy multiple things about multiple people until you're ready to settle down.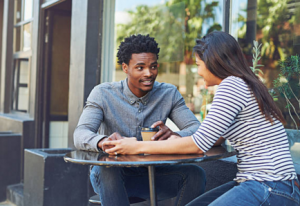 Go out in public:  The weather is warming up so don't stay indoors Netflix and chilling, go out, take a walk, ride a bicycle, go on a picnic or whatever you like to do outdoors for fun.  I recently went shopping for plants and the environment was so peaceful that it was a cool "date" idea for me and my boyfriend that day.  We walked and talked and shopped for plants together.
"No question, the newness of spring provides an ideal context for beginning a relationship.  The changing weather and sunshine energize us – especially those of us who live in cold cities where we've had to hibernate all winter," says psychologist Dr. Karin Alexander Abrell (Ask Men, 2019).
Test out that dating app or website you've been thinking about: Dating online does not equate to being unethical or appearing desperate.  As with any online etiquette, keep it safe and classy and you may wind up finding your true love.  Everyone online are not creeps (hello, you're online reading this).  Technology has been great to us even while dating.  Google some safety tips for dating online before you sign up for a membership to any of the websites.
Get active:  Your new boo might be attending the next event you go to or at the gym getting their summer body ready also.  But you should definitely go places this spring and you just might bump into or your new boo or you'll take his breath away as soon as you walk into the room.
Challenge yourself to get out more to find new interesting people to date.  Don't go to your regular spots that you hang out at for coffee or for brunch with your friends.  Go to new places because usually, you will meet your mate in places that you wouldn't typically be at.  Just make sure you aren't up tight and let loose a little bit.  The world has changed so be safe and date responsibly.
Staff Writer; Felicia T. Simpson
One may also connect with this sister online over at; FTSimpson.com.