The Dos And Don'ts Of Dreads.
(ThySistas.com) Eager to give dreadlocks a go? Dreads have become hugely popular in recent years with everyone from Rihanna to Future sporting locs. There are so many diverse styles to play with half-up dreadlocks to mohawks to high buns. That said, dreads do take a lot of maintenance – its worth following a few rules both to keep your locs looking stylish and to protect your hair. Here are just a few dos and don'ts to consider when caring for your dreads.
Do wash your dreads
Some people think that the best way to keep dreads in shape is to limit washing them, but this just makes them smelly and greasy. You don't want smelly and greasy dreads – adopt a regular washing routine as you would with any other hairstyle. There are special shampoos and conditioners for dreadlocks which can stop your dreads from drying out and prevent your scalp getting itchy. You should wash your dreads carefully and avoid soaking them for too long. It's also important to let your dreads dry thoroughly – if they're left damp you could get 'dread rot'.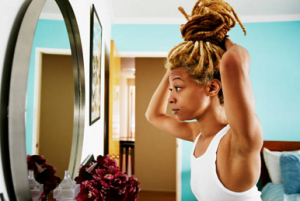 Do separate your dreads daily
Separating your dreads daily can stop them getting interlocked and knotted. Run your fingers through your dreads from the root and check that any new growing hair isn't getting tangled. Washing your dreads will also help to make separating them easy.
Don't overuse wax products
Some people use the likes of beeswax to keep their dreads in place. Whilst this can be effective, wax can affect your ability to wash your hair thoroughly – wax doesn't break down easily in water making it harder to get the dirt and grease out of your hair. There are other products out there that can help keep your locs in place that are more easy to wash out. Wax should only be used sparingly and may require a more thorough wash afterwards.
Don't keep dreads tied up for too long
Keeping any hair tied up for long periods of time can create tugging which can damage the hair at its roots. Styles like top knots buns and fishtails can create tension. It's best to vary up your style regularly so that your hair isn't always being pulled in the same direction.
Do consider faking it
Artificial dreadlocks such as yarn locks shouldn't be frowned upon – they're lower maintenance and healthier for your hair. It's also easier to experiment with colours and unique styles. There are lots of cool looks out there – you can check it out here. Make sure to always buy top quality yarn locks as these are more likely to last. It's worth giving yarn locks a go before you to take the decision to try real dreads as they can help you to determine whether the style is right for you.
Don't commit without doing your research
Dreads definitely aren't a quick fix haircut. Growing them and sculpting them takes times and a lot of work is required to keep them looking their best. Make sure that you do your research before trying this style and undoing it can be difficult – when getting rid of dreadlocks, many people have to shave their heads. You could help to aid the process by visiting a hairdresser that specialises in locs (known as locticians). These professionals can help start the process and regularly check your locs to make sure that there's no damage or knotting. You can even get them professionally cleaned if you're concerned about doing it yourself. Alternatively, as already mentioned, you can try out yarn locks and get a feel for what it's like to have dreadlocks, including trying out different styles so that when you commit for real, you can help aid growth to fit that style.
Staff Writer; Laura Moore