New Orleans is my Home.
(ThySistas.com) New Orleans has been my love all my life. I have had the opportunity to experience other places and while I appreciate the culture they offer I always find myself ready to return to the spirit I know. My city isn't just a commercialized place that you can visit to let your hair down. It has a spirit all of its own and it is powered by its native citizens. After hurricane Katrina so many had a vested interest in what would happen to the city without the same concern for its natives.
Of course, the culture is necessary because there is no city without it…so the natives are necessary to the spirit that drives the culture to exist for it to continue to be a tourist city. We have a lot of people that are transplants to the city, and through their roots are not from here they have engrained themselves into a culture they chose to marry. However, I admit I see a different kind moving here, and it is disturbing to my New Orleanian soul.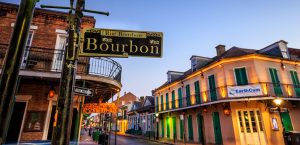 If you decide to move to New Orleans please understand it already has an established culture that gentrification strains. Many natives are pushed aside and treated subpar to make room for those moving to New Orleans with no respect for the people that are already there. This city is not a novelty to us…it is our home. There are families here that gate back for generations and they love this place and fight to make it better. Yes, New Orleans is plagued with crime, corruption, funding issues and many other challenges that need to be addressed, however this is the plight of many cities in this country.
I drive down Orleans Ave in Mid-City and it looks like nothing I grew up knowing. Growth, and development is positive, but at what cost? I see gentrification first hand whereby natives that work honest jobs that should render them middle class can't afford to live in areas black families used to reside. Though there is not a culture battle per se… establishments are opening that do not cater to the native citizen at all. We are watching as we are forced to live in areas that are subpar…or high flood risks.
One can only wonder how much the City Council truly understands what they are allowing to happen. While I am happy New Orleans has its first black female Mayor I also acknowledge that she is from California…and seems not to have any problems referring to outside council on how to handle New Orleans. No, we are not a typical city, and I dare to say we need more leadership that is home grown, and not crooked.
The crime rate needs to be addressed, and yet I can only be left to wonder how much of it is born out of frustration and desperation. The feeling that your city has somehow been unseated. There is no way this justifies the killing that we are seeing, yet we need to begin to look at all the issues that could be causing such to begin working on solutions that will actually work. I came back after Katrina home because I wasn't happy living anywhere else. New Orleans pure magic to me.
However, that magic and culture comes from the heartbeat of its citizens. Because this culture is profitable the natives will be there, however at what cost. Will the culture continue to be maintained by a disenfranchised population? It is my hope to see my city continue to grow, and thrive while treating its citizens with dignity and fairness. I want people to come to New Orleans and experience it for themselves, and if it moves you so then we welcome you…just please do so respectfully as New Orleans is a home I can never imagine surrendering.
Staff Writer; Chelle' St James
May also connect with this sister via Twitter; ChelleStJames.