Moving to a New City: Things to Consider.
(ThySistas.com) I don't know about other people, but for me, moving is an exciting thing. When I lived in Tennessee, I moved about every 12 to 16 months. I know that's excessive, but what do you expect me to do when I see another apartment that's better and cheaper? I love the idea of decorating a new place and all the feelings that come along with that. The moving part is not so fun, packing and all, but once it's all said and done, I just can't describe the satisfaction.
It's the same for moving to a new city. I've lived in a few different places and each time, it was such a thrill experiencing new things and meeting new faces. Needless to say, I've got a few tips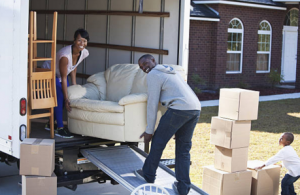 and tricks on what to consider and keep in mind when moving to a new city.
Here are some of the things that I've learned along the way.
Check the Crime Stats
I recently moved to Atlanta. I found an amazing house. In fact, it was the very kind of house that I said I wanted when I moved to Georgia. I went through the application process, was going to put the deposit down on it and then I decided not to. Why? Because the neighborhood had an extremely high crime rate. It hurt me to pass on it, but my peace of mind is more important. Checking the crime rate of any potential part of the city is paramount. Don't forget to do it!
Consider Quality of Life
This was the main reason I left L.A. It was just not a good quality of life for me. It's super expensive, the apartments are tiny and the traffic is just dumb. When deciding on where you are going to move next, don't just go to a city because everyone else is moving there. Move because it works for you on the levels that are important for you.
Plan Early
I made the decision to leave Los Angeles early in the year. From there, I started making plans to move to Atlanta. Because it is my significant other and me, I had to take a lot of things into consideration. Like how are we going to get both of our things across the country, how much is it going to cost, will we have the money and more. Planning early allowed us to make the move with no hiccups. Don't wait until the last minute.
Look for a Job
This is a no brainer I know, but don't think it's going to happen in a few weeks. People spend months applying and looking for work in a new city without any luck. I know that you are good at what you do and any company would be lucky to have you, but that doesn't always translate well on paper. Start looking early.
Use a Local Address
Some people are against doing this, but in my experience, it's the best way to secure a job before you get to your new city. If you have a friend in the city, use their address. I've been overlooked for a job before because I was not local yet. Using a local address in your new city is just good practice.
Make your move pleasant by following these tips. They are basics that serve as a great guide.
Staff Writer; Rasheda Abdullah