Getting Over Those Nerve-wracking New Job Necessities.
(ThySistas.com) Starting a new job can be one of the most nerve-wracking experiences ever. Even though it can be exciting too, it can easily make you nervous. You'll be in a new company and environment, with new people and responsibilities. It can all feel a bit overwhelming for the first few weeks. Until you settle into a routine, you can feel a bit lost. And to further add to your worries, you might be waiting out a probation period that could end your job sooner than you like. Being too stressed at your new job might mean you're not performing at optimum levels. If you want to do better, use the following tips.
Relocating
Not every job requires a relocation. In fact, you're much more likely to stay put. But if you are moving cities or even to a different part of the city, it adds another level of difficulty. Not only will you be in a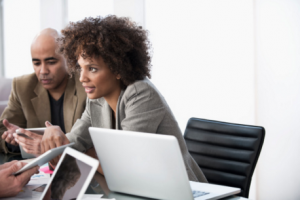 new job, but you'll be living in a new location. You might have to find new friends and activities to do. However, don't think about all of that right away. Start by making the actual move easier and less stressful. Make sure you use a removalist to reduce the work you need to do to move. Once you arrive in your new home, working out how to get to your new job should be a top priority.
Getting to Know Everyone
Meeting your new coworkers is often one of the most frightening things at a new job. It's a bit like your first day of school all over again. Even though it's hard to meet a lot of people at once, you need to try your best to be social. If you don't make an effort in the first week or two, you could be overlooked later on. Try to take the initiative and don't wait for people to come to you. Say hello and start conversations, especially with those you're working closely with. Look for someone who can offer you guidance too, and perhaps take you under their wing a little.
Finding Your Routine
Getting into a good routine at work can take you a while. It's easier with some jobs than with others. If your days are unpredictable, settling into a routine can feel next-to-impossible. What you can focus on is creating good habits during your work day and streamlining your activities. As well as your work, you can find your place during your breaks. You might want to explore the area at lunch and make lunchtime buddies.
Actually Doing Your Job Well
Of course, being good at your job is probably your biggest concern. Your new employer liked you enough to hire you, but they haven't seen you in action yet. You might have a probationary period before you're permanently hired. If you want to prove yourself, you need to get to know the company and what's expected of you. Don't be afraid to ask questions, as well as taking the initiative.
Starting a new job is hard, but everyone has to do it. If you go in prepared and with confidence, you'll be successful.
Staff Writer; Tammy Rose