Fall Fashion: Hot Trends for 2016.
(ThySistas.com) We are in the full swing of summer and loving every bit of it. From the vacations to the parities to the beautiful weather, we can't get enough of this time of year. One of the best things about the change in seasons is not only the different activities, but also the variety of fashion trends.
With that, before you know it, we will be saying goodbye to shorts, bikinis and crop tops and hello to boots, sweaters and leggings. Fall is one of my favorite times because it really allows your fashion sense to shine through.
So, to get you ready for the cooler months that are heading our way, here are some fall 2016 trends to keep on your fashion radar.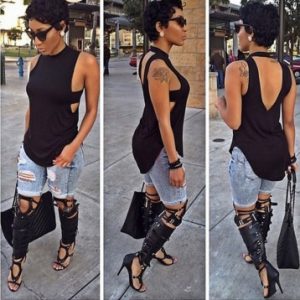 Leather
It is back! But I'm not just talking traditional trench coats and boring pants. This fall, leather is all over the place in various fashion ways. From fitted jackets, fancy skirts, and crafted slacks, the updated look is chic and street ready. Color is also in so feel free to mix it up.
Plaid
This pattern showed up a few seasons ago and it doesn't look like it's going anywhere. Plaid is simple, clean and ideal for everything from pants, to shirts to shorts.
Puffers
If you live in a place where it gets cold sooner than other parts of the country, you are in luck, because high fashion puffers are so in this fall and winter. You will see them in a variety of designs and a range of soft pretty shades. For many of them too, they will be EXTRA puffy.
Velvet
This material kind of gets a bad rep sometimes but for fall 2016, it is a go-to in every color of the rainbow. It was heavily seen on the runways in Paris because it's comfy and chic. I like to see velvet as dresses and skirts personally, but anything goes right now, including cropped pants.
Jean Jackets
I am so excited about this trend because honestly, I never stopped wearing my jean jackets. Some people may view them as dated, but thanks to designers modernizing the colors, cuts and styles, they are back in and ready for fall. You will see them with added detail like patchwork, built-in belts and fur. The jean jackets of today have coattails, embellished embroideries and come in sleek textures. I can't wait!
80's Shoulders
If you love the 80's then you're going to love this trend. Designers have gone back to the structured shoulder pads that the decade is known for and have updated them to fit nicely into today's fashion options. From fur coats to blazers, this is definitely an interesting one and it is one worth trying. Sometimes it's good to branch outside of your comfort zone. This is a great chance to do so with this look.
Fall is such a cool time to explore fashion tastes and take risks. With these trends and so many more, it looks like you may have some shopping to do.
Staff Writer; Rasheda Abdullah