Sisters Your Life is Important.
(ThySistas.com) Some of us grew up in homes whereby we were not loved, and nurtured positively. Even those of us that had loving homes tend to battle with self worth. Life continues on and we experienced hurt, loss, abuse, betrayals…and the list could go one. Some turn to spirituality and family while others try to deal with pain alone. Everyone doesn't walk away from pain physically well…some turn to drugs, alcohol, and even prostitution. One day a sister wakes up and asks WHY ME?! She says I've had enough…I've seen and done too much to go on. She feels her life is forfeited in that moment…as if no good thing could come from her breathing.
For some this state is driven by the feeling of worthlessness from having had children, but ones life was so messed up that they were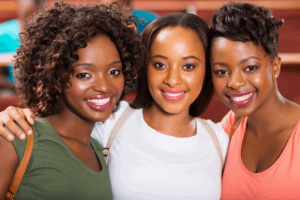 not able to mother the child they brought into the world.  In the mind of some this is enough to leave the land of the living.  Life has become one big pain and suffering rollercoaster, and you simply see no way out. Please know that in this very dark place, contrary to how you feel, your life is important.
As long as we are breathing there is always an opportunity to write a new story for ourselves. I won't lie and say it will be easy, but it's possible. No human being exists on this earth for no reason…sister someone needs your testimony, and someone is waiting to love you and be loved by you.  There are things in this world that only you can do because there is only one you. If you choose to end your life there is no carbon copy of you anywhere. I'm not speaking of merely surviving…you have the right to LIVE. The suicide rates of black women is something that must be addressed if we are to save, and rebuild our communities. If mothers are not well the children will not be well…if the children are not well neither are our people.
Brothers are strong, and necessary to us, our children and the community…but they can't birth life; this is our responsibility.
As sisters we must come to a place of unity whereby we value the life of the sister that looks "together" just as much as the one that appears "messed" up. Truth be told…every sister that looks together isn't together. Some of those appearances are masking pain and suffering and they are just as on edge as the sister we can clearly see. We must come to a place whereby we see our lifeline in the eyes of the sister next to us. We must look at each other and say: "Sister Your Life is Important ".
When one of us dies before our time all of us are weakened. There is a beauty and magic that illuminates within our community when Black women come together to heal, uplift, assist and support each other genuinely. Black men can do plenty for us, but sometimes our own kind must get us off the floor. We can't see each other as deadly competition…we are sisters.
My dear precious sister if you feel life is no longer worth living please know you are wrong. Your life is important, and you matter. Please reach out to your family (if it will be positive and they are supportive), friends, church, temple, mosque or call the suicide hotline. You can always write a new story. You are strong and resilient; even though I don't know you I value your life.
Sister Your Life is Important!
Staff Writer; Christian Starr
May connect with this sister over at Facebook; https://www.facebook.com/christian.pierre.9809 and also Twitter; http://twitter.com/MrzZeta.